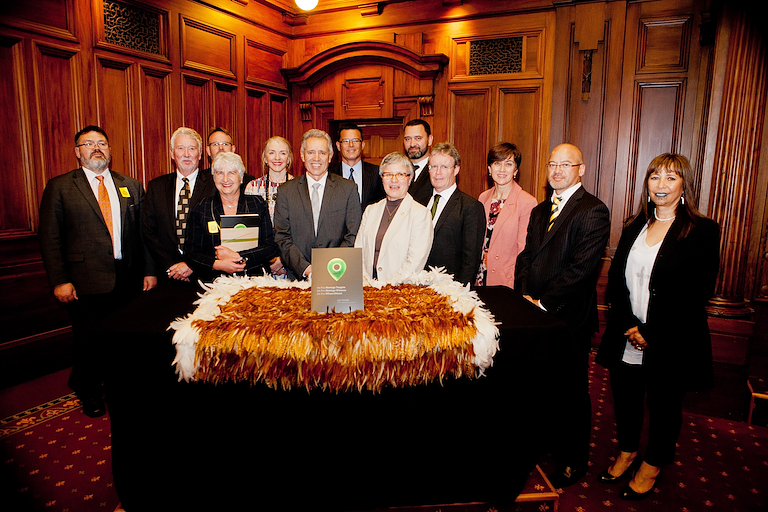 Much has been written about the Native Land Court today known as the Māori Land Court.
The journey of the modern Māori Land Court is one that is best described by the people who have served, and who continue to serve, the Court and its communities.The book He Pou Herenga Tangata, He Pou Herenga Whenua, He Pou Whare Kōrero explores 150 years of the development and operation of the Māori Land Court. It was launched by Justice and Courts Minister Amy Adams and Māori Development Minister Te Ururoa Flavell at a gathering of past and present judges and staff.
It is the first publication to give readers an insight into the history, people and stories that make up the Māori Land Court.
"Te Kōti Whenua Māori – the Māori Land Court – is the dedicated court in Aotearoa that recognises the unique and special bond that Māori have with land," Mr Flavell said.
"It also maintains and preserves records and valuable land information, including whakapapa. This role has seen it forge relationships with Māori land owners over many generations," says Mr Flavell.
The Māori Land Court is New Zealand's oldest and longest established specialist court. Established in the 1860s to convert Māori customary title to something approximating British land title, the Native Land Court was soon dubbed "te kōti tango whenua" (the land-taking court) for its role in facilitating the sale of Māori land. Today, as the Māori Land Court, it has a very different focus – to keep land in Māori hands and to promote its use and development.
Ms Adams said the Māori Land Court played an important role in New Zealand's justice system.
"Around five per cent of all land in New Zealand is Māori freehold land which is about 1.42 million hectares – 13 times the size of Auckland. On average, the Court processes around 3000 ownership applications a year which is a significant amount of work," says Ms Adams.
Back: Judge Ambler, Judge Wainwright, Judge Clark and Judge Armstrong. 
Front: Justice Williams, Judge Savage, Chief Justice Elias, Chief Judge Isaac, Judge Milroy, Judge Doogan, Judge Reeves, Judge Coxhead and Deputy Chief Judge Fox.