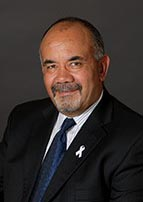 2016 has arrived and provides us with new ambitions and goals to achieve in this calendar year.
Now, is also a time when we acknowledge the 176th commemoration of signing our national founding document, Te Tiriti o Waitangi.
In the Māori calendar year, we acknowledge the birthday of Rātana founder, Tahupōtiki Wiremu Rātana on January 25th followed by the anniversary of Waitangi Day.
It is also a time for me to acknowledge that I have been in the role of Minister for about 15 months. I have settled into the role now and look forward to further advancing our people in various sectors.
My three big priorities have been, and will remain, improving outcomes for whānau, while also advancing our aspirations in housing and Māori land matters. I call these my three 'w's', which are whānau, whare and whenua.
My aim is to expand Whānau Ora. One of my intentions is to boost the number of Whānau Ora navigators. It is these people who connect our families with the appropriate help including through government agencies as well as helping whānau to empower themselves through designing a plan. 
In addition to my ambition to increasing Whānau Ora resources, it is important families have access to quality housing. 
Last year, I launched the Māori Housing Network.
The intention is to increase the number of affordable homes for Māori, focus on home improvements to allow families to live in safe, warm and healthy houses and help Māori organisations increase their ability to provide housing for whānau.
The Network is managed by Te Puni Kōkiri which will essentially work with whānau by offering them advice, letting them know what funding is available and will provide support to help them improve their housing situations. It complements other government initiatives currently in the housing sector but has a sole focus on Māori housing.
The third 'w' for whenua is another key commitment of mine. Te Ture Whenua Māori reforms aim to ensure that there are appropriate safeguards for the retention of Māori land as a taonga tuku iho; and to make it easier for Māori land owners to make decisions about how to use their whenua.
There are three workstreams which are being designed to achieve these goals:
The Bill empowers all Māori land owners to pursue their aspirations for the sustainable development of their land.
The Māori Land Service supports Māori land owners to access information and advice about whenua Māori. 
Te Ture Whenua Enablers and the Whenua Māori Fund programme will explore how other legislation can be changed to better enable Māori land use and also how new initiatives can be funded and lead to increased productivity of whenua Māori.
The Bill is scheduled to be introduced into Parliament early 2016, and I am hopeful that these three areas, whānau, whare and whenua will help to boost Māori potential.
Two other key objectives this year will also be advancing Māori economic development as well as pushing ahead with the Māori Language (Te Reo Māori) Bill. The Bill is currently being considered by the Māori Affairs Committee. The Committee is scheduled to report back to the House of Representatives by 26 February 2016.
I am driven by the action of helping our people to live healthy lives which indeed means to be whānau ora.
I wish you all the best for a bright and prosperous new year.
Nāku noa,
Te Ururoa Flavell
Minita Whanaketanga Māori
Minita Whānau Ora