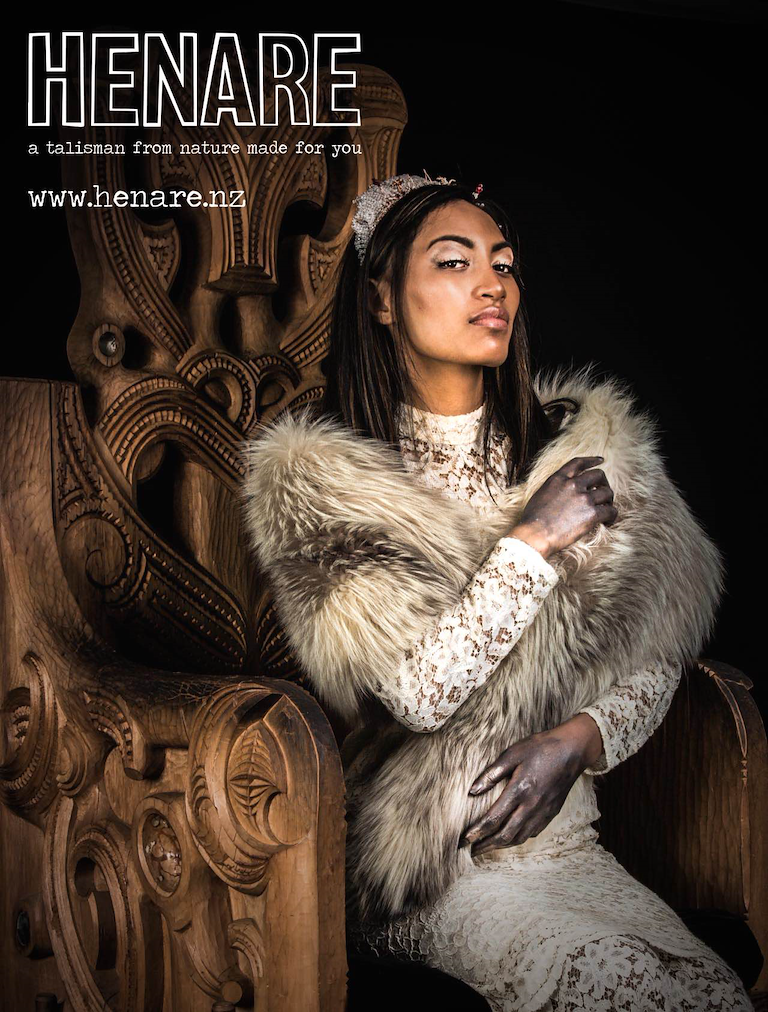 Featuring a raw, eclectic edge, Henare is taking the jewellery industry by storm. The handmade range is merging nature's gifts and life's memories to create one of a kind, limited edition pieces.
It's founder, Nerida Johnstone (Ngāti Porou, Rongowhakaata, Ngāti Kahungunu) is a jewellery artist based in Rotorua. Her vision is to create edgy and contemporary pieces that enable the wearer to connect to, and to be empowered by nature in their everyday life.
"I like fusing metals with nature's gifts in the form of stone, gems, bone and leather to create one of a kind handmade pieces," she says. "The raw, eclectic edge is something that runs throughout my collections."
Raised in Gisborne, Nerida worked at the Auckland City Art Gallery and studied fashion design before returning to the fine arts, majoring in sculpture and developing her skills in lost wax casting. Her creative journey and exploration led her to one realization: her persistent love of creating pieces that embody and signify an enduring gesture of love and to interpret them in a raw, contemporary way.
"I have always been interested in jewellery's ability to spark a memory, a special moment in time, a tribute or connection to someone," she says. "This powerful function of jewellery is an important part of the Henare brand."
When talking to Nerida, it's clear that as well as her passion for creating beautiful pieces of jewellery, Henare is largely influenced by the designer's connection to her family, and specifically her grandparents, who have shaped the brand to what it is today.
"The name Henare is taken from my koro Henare Te Owai Mackey," she says. "His encouragement and support is something I hold onto and my business is homage to him."
Only a year under the belt, Henare's profile is growing - recently launching its website and featuring in the December issue of Air New Zealand KiaOra inflight magazine.
When asked what has been a highlight of Henare so far to date her response is simple.
"I've been lucky to have positive support from stockists in New Zealand and internationally in New York, but the personal response from people wearing Henare is what pleases me the most. The enjoyment they get from something I've created continues to be my highlight."
Nerida is quick to recognise the support and networking opportunities her business has received through the Te Puni Kōkiri Māori Business Facilitation Service.
"The process of working with the Māori Business Facilitation Service can be as simple as connecting you to many people like you. I have been very lucky to be supported by a community of like-minded people working across the fashion and design industry. The Māori Business Facilitation Service has offered me a range of skills and expertise that I didn't otherwise have," she says.
Starting a new small business can be challenging – something Nerida has taken in her stride. The hardest part was establishing the Henare brand itself, the consolidation of the value proposition for Henare, and ensuring that anything she creates aligns and is visible and accessible to relevant markets and trends.
"Seeking market feedback and establishing stockists were a crucial step in the establishment of Henare. Equally, the development of a website has allowed us to further our reach to a wider audience."
So what does she enjoy the most about her job?
"Work/life balance is the main thing for me. I get to work, be creative and still be actively involved with my family's lives. I would not have it any other way. Life is too precious."
Check out Henare on Facebook at facebook.com/henarecreative
Learn more about Te Puni Kōkiri Māori Business Growth Support on our website at https://www.tpk.govt.nz/en/whakamahia/maori-business-growth-support/.