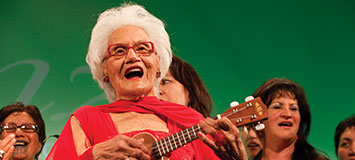 Five kaumātua's generosity and talent was acknowledged at the recent Te Waka Toi awards ceremony. The 2010 Te Waka Toi awards commemorated:
the international success of Dame Kiri Te Kanawa (Ngāti Maniapoto, Ngāti Porou) with Te Tohu Aroha mō Te Arikinui Dame Te Atairangikaahu;
the creative innovation of Tairoa Royal (Te Arawa, Ngāti Raukawa, Kai Tahu) with Te Tohu Toi Kē;
the promotion of Te Reo Māori by Te Onehou Phillis (Ngāti Awa) with Te Tohu Aroha mō Ngoi Kumeroa Pewhairangi: 'Whakarongo, Titiro, Kōrero';
the huge commitment of five kaumātua, who through their generosity and talent, enrich the artistic traditions of communities, with Ngā Tohu a Ta Kingi Ihaka:

Jossie Kaa (Ruawaipu, Ngāti Porou),
Kihi Ngatai (Ngāi Te Rangi, Ngāti Ranginui),
Wairukuruku Maere (Ngāti Naho, Ngāti Mahuta o Tainui, Waikato, Ngāti Poporo, Ngāti Kahungunu),
Vera Morgan (Te Māhurehure),
Wiremu Kaa (Ruawaipu, Ngāti Porou).

Two emerging Māori artists with the award of Ngā Karahipi a Te Waka Toi – scholarships to assist with further study:
Talented young arts curator and visual artist Reuben Friend from Waikato,
Gifted tā moko practitioner Taryn Beri from Wellington.