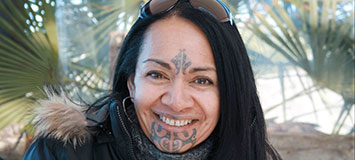 Kapiti Island's Kaitiaki o Kapiti Trust has announced that writer Nuki Takao is Kapiti Island's resident writer this year.
The residency is funded by Te Waka Toi / Creative New Zealand and hosted by Kaitiaki o Kapiti Trust, offers a grant and allows an up-and-coming Māori writer to live and work on the northern end of Kapiti island for eight weeks.
Nuki Takao (Ngāti Rārua – Turangapeke, Te Āti Awa – Otaraua, Ngāi Tühoe - Tamakaimoana) says living on Kapiti will be like 'moving back through the mists of time'.
'To reside on Kapiti, on the island that stands apart from this world, will be more than a dream come true,' says Nuki. 'To tread in the undisturbed footsteps of the old ones, to spend time with the ahi kā, with those few who have held unbroken the thread down through the generations, will be an honour.'
During her residency Nuki will work on a children's book, in Māori and English, which she hopes to develop into a series. She says the story will be an 'historical, mythical, magical story based around Kapiti Island, its environs and its people. A hero's tale with a child at its heart.'