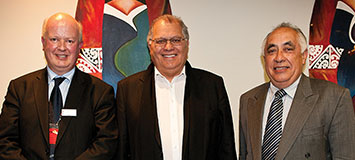 Māori-focused mentoring is being prioritised as an important Māori student support activity in a number of tertiary education institutions throughout the motu.
This is one of the highlights that emerged in a recently released report Kaiako pono: Mentoring for Māori learners in the tertiary sector.
Prioritising Māori-focused mentoring, according to the report, was evidenced by the number of Māori-focused mentoring programmes that are supported at senior management level, with dedicated infrastructure and resourcing.
The report is of an investigative study co-funded by Te Puni Kōkiri and Ako Aotearoa (the National Centre for Tertiary Teaching Excellence). The project was also supported by the Tertiary Education Commission. Together, the organisations share a commitment to improving educational outcomes for Māori at tertiary level. The study reviewed relevant literature on mentoring for Māori, and had site visits and interviews in 21 tertiary education institutions throughout the motu.
Other highlights included; mentoring programmes for ALL learners include culturally relevant peer support options for Māori learners, mentoring activities that encouraged long-term "whānau-like" relationships as well as focused on "holistic" wellbeing (academic, cultural and personal).
Dr Peter Coolbear, Director of Ako Aotearoa; Sir Wira Gardiner, Chair of the Tertiary Education Commission and Leith Comer were present at the launch of the report.
A copy of the full report is available from www.akoaotearoa.ac.nz\kaiakopono.