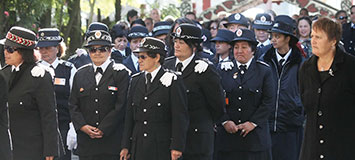 Quickly recognisable by their distinctive uniform, white gloves and friendly personalities, Māori Wardens are a familiar sight at national events special to iwi and New Zealand.
From transporting teenagers home well after their curfew, to assisting whānau ope on to marae, providing security at the sport events in stadia, and monitoring licensed premises – Māori Wardens provide a certain kind of reassurance to communities despite the weather, hour of the day, or day of the week.
The Kirikiriroa Māori Wardens and their peers from around the motu were at last month's celebrations of the coronation of Te Arikinui Kingi Tuheitia. Linton Sionetali of the Kirikiriroa Māori Wardens says the presence of Wātene Māori at events like this is another expression of 'Aroha ki te Tāngata' – their love for their people.
Read the latest edition of Aroha ki te Tangata, the Māori Wardens newsletter, that includes:
An exclusive role for Māori Wardens through the Rugby World Cup 2011 Volunteer Programme.
Deadlines for applications to the Māori Wardens Funding Programme.
Training and development opportunities.
An update on the inquiry into the Māori Community Development Act 1962.
Visit www.tpk.govt.nz to read Aroha ki te Tangata.