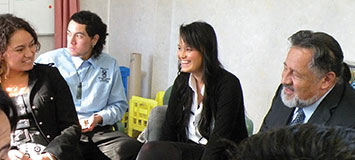 Rangatahi Māori have been nominated to a national Māori Youth Council, to advise the Minister of Māori Affairs on issues affecting young people. "The Māori population is younger than the national average, so rangatahi are an important part of our society and we need them to play a full part in planning our future," he said.
"I want to hear directly from young people what they think about how the Government's policies and programmes work for them; and I hope the experience of working with the Māori Youth Council will further develop their leadership skills.
Dr Sharples said he wanted 12-15 representatives from across the country and a range of iwi, who are active in their communities, interested in Māori affairs and have strong leadership skills. It is intended that the Council meet every couple of months to give the Minister and Te Puni Kōkiri practical advice and feedback on issues affecting rangatahi Māori.
Look out in the next Kōkiri for the Minister's announcement of the rangatahi appointment to the Māori Youth Council.