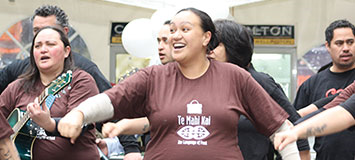 Māori Language week 2010 has attracted universal praise from across the country according to the initial data that has been compiled.
Leading the way this year was the significant contribution from supermarket leader Progressive Enterprises which undertook a massive bilingual advertising campaign over the entire week.
This initiative alone ensured that more than 2.4 million shoppers were exposed to te reo Māori over the week. Combine that commitment with the number of people who received their weekly advertising and marketing material and the number of people exposed to te reo Māori over Māori Language Week was substantially more.
"Te Taura Whiri i te Reo Māori (The Māori Language Commission) was impressed with the commitment shown by other organisations as well," said Chief Executive Glenis Philip-Barbara.
"Māori Language Week featured on all television channels, radio stations and print media throughout the country. More than 350 media hits have been recorded so far on Māori language media coverage this month. That figure is climbing and we look set to exceed last year's measures", says Glenis Philip-Barbara.
"Our office has been overwhelmed with positive and encouraging feedback about the coverage of Māori Language Week this year," said Glenis Philip-Barbara. The momentum must continue and all of those organisations that took part in the week have all played a key role in ensuring the survival of te reo Māori.