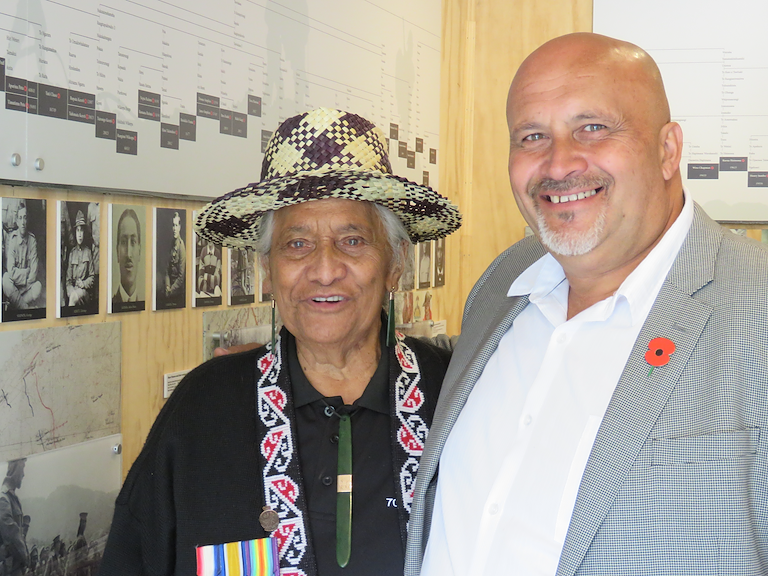 Ngāti Awa is celebrating its history and taking it to the people – in the form of two 20 foot containers.
Wayne Marriott, culture and heritage manager at Te Rūnanga o Ngāti Awa, says they were inspired by a container exhibition in Tauranga and knew it could work for the iwi. He said as the exhibitions were literally self-contained, making them portable and the stories could be shared with many communities around the rohe.
Ngāti Awa would go on to develop several exhibitions, and with pūtea from the Commemorating Waitangi Day Fund, they honored the 175th anniversary of the signing of Te Tiriti – container style.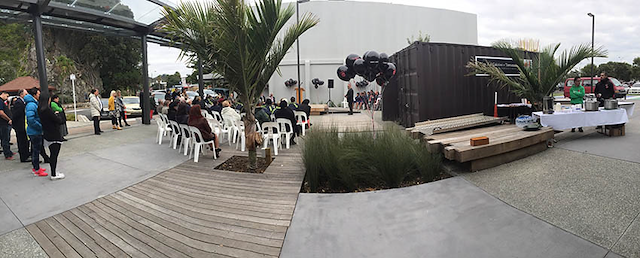 Wayne says the exhibition highlights the significant commitment of Ngāti Awa rangatira who signed Te Tiriti. Following the land wars and battles around the Bay of Plenty, especially that at Te Kupenga pā, Ngāti Awa had significant tracts of land confiscated by the Crown.
The exhibition features the whakapapa of those leaders who signed – all Ngāti Awa, some Ngāti Pūkeko. The Declaration of Independence, the current flag debate, the Bay of Plenty Treaty and the 1940 commemorations all sit comfortably alongside each other.
Through the support of the Sir George Grey Collection, Auckland Libraries, Ngāti Awa has been able to reproduce the pages from James Fedarb's May and June diary of 1840. Fedarb was a trader who was commissioned to carry the Treaty around the Eastern Bay of Plenty.
"Fedarb delivered copies of the Treaty to Ngāti Awa and Ngāti Pūkeko in May 1840, and then sailed to Ōpōtiki, where the Treaty was signed; from there to Te Kaha, to Tōrere, back to Te Kaha, to Maraenui and finally to Whakatāne. Our Treaty exhibition opened on 16 June, exactly 175 years after Fedarb arrived in Whakatāne to collect the signatures of Ngāti Awa and Ngāti Pūkeko tipuna."
The first exhibition was Ngā Toa Takitini o Tūmatauenga venerating 96 Ngāti Awa soldiers from WWI. Wayne said presenting the whakapapa of 96 men brought with it a certain set of challenges, such as the concerns that men were missed and ensuring the integrity of their research: "It stimulated a huge amount of positive discussion amongst Ngāti Awa and the wider Whakatāne and Eastern Bay of Plenty community."
However precious information was readily offered. "Photographs were found on marae, in private homes, rugby club rooms and in the local museum," Wayne said. "We were challenged with naming images and then writing a story on each of the soldiers. We were fortunate that during the time of the exhibition we had some people come forward with additional information on other soldiers and also additional photographs which could be copied, shared and archived."
Given the success of the exhibitions, plans for more exhibitions are underway, including the 150thanniversary of the Battle of Te Kupenga, and the 151st anniversary of the Battle of Kaokaoroa. Another in 2016 will remember the Ngāti Awa soldiers of the 28th Māori Battalion who returned home in 1946.
E whakaaro ana i waho o te Pouaka  
Kei te whakanuia e Ngāti Awa tō rātou kōrero nehe, ā, e haria atu ana hoki aua kōrero katoa ki tō rātou iwi i roto i ngā pararā e rua, 20 pūtu te roa.
I kī a Wayne Marriott i whakaawetia rātou e tētahi whakakitenga pararā i Tauranga, me te mea i mōhio rātou he āhuatanga pai hoki tēnei mā rātou.  Hei wāhanga o te whakamaharatanga 175 tau nō te hainatanga o te Tiriti, i whakatauria e Ngāti Awa kia whakaputa i ana kōrero ā-Tiriti ki te āhuatanga pararā. 
E kī ana a Wayne e whakaahua ana tēnei whakakitenga i te tino ngākaunui o Ngāti Awa ki te Tiriti i te hainatanga a ētahi o ōna rangatira i te Tiriti.  He mea nui tēnei i te mea e rua tekau mā rima tau i muri mai, i muri i Te Kupenga, he nui te whenua i murua e te Karauna.
Kei roto i te whakakitenga ko ngā whakapapa o aua rangatira i haina i te Tiriti, te nuinga nō Ngāti Awa me ētahi nō Ngāti Pūkeko. He pai te noho tahi o te Whakapuakitanga o te Rangatiratanga(Declaration of Independence), te tautohetohe o nāianei mō te haki, te Tiriti o Te Moananui a Toi me ngā whakamaharatanga ki te tau 1940.
Mā te tautoko mai o te Kohinga o Tā Hōri Kerei i te Wharepukapuka o Tāmaki Makaurau, kua tārua, kua whakaputaina e Ngāti Awa ngā whārangi mai i te rātaka o James Fedarb i ngā marama o Mei me te Hune i te tau 1940. I whakaritea a Fedarb, he kaihokohoko, ki te hari haere i te tiriti huri noa i Te Moananui a Toi ki te Rāwhiti.
"I haria ngā kape o te Tiriti e Fedarb ki Ngāti Awa me Ngāti Pūkeko i te Mei o 1940, kātahi i whakawhitia atu ki Ōpōtiki, te wāhi i hainatia ai te Tiriti; mai i reira ki Te Kaha, ki Tōrere, i hoki ki Te Kaha, ki Maraenui, kātahi i mutu atu ki Whakatāne.  I whakatuwheratia tō mātou whakakitenga Tiriti i te 16 o Hune, hāngai tonu ki te wā, 175 tau ki muri, i tae mai a Fedarb ki Whakatāne ki te kohi i ngā waitohu o ngā tīpuna o Ngāti Awa me Ngāti Pūkeko."
Ehara tēnei whakakitenga Tiriti i te mea tuatahi kia whakaaturia ki ngā pararā.  I tuwhera Ngā Toa Takitini o Tūmatauenga i te 4 o Mei, hei whakamaharatanga ki te 96 hoia nō Ngāti Awa i haere ki Te Pakanga Nui o te Ao Tuatahi.
"Ko ngā wero mā mātou i te whakatakotoranga o te whakapapa o ngā hoia 96 o Ngāti Awa mai i WW1, ko te tuatahi ko wai i mahue, ko te tuarua ka whakahēngia pea mātou me ngā kōrero.   Nō konei i tino nui ngā kōrero pai i puta mai i waenga i a Ngāti Awa, puta atu ki te hapori o Whakatāne, atu ki Te Moananui a Toi ki te Rāwhiti.  I kitea ngā whakaahua i runga i ngā marae, i ngā kāinga, i ngā taiwhanga o ngā karapu whutupōro, i roto hoki i te whare taonga ā-rohe.  Kātahi te mahi uaua ki a mātou ko te whakaingoa i ngā whakaahua me te tuhi kōrero mō tēnā, mō tēnā o ngā hoia.  Waimaria katoa mātou i te wā o te whakakitenga i puta mai anō ētahi tāngata me ētahi kōrero anō mō ngā hoia, me ngā whakaahua anō e āhei ana te kape, te tiri me te whakapū."
I katia Ngā Toa Takitini o Tūmatauenga i te 14 o Hune 2015, ko te tino wero mō te Rūnanga ināianei me pēhea te whakarite i tētahi āhuatanga toitū o taua whakakitenga.  Kua tīmata kē te whakamāherehere i ngā whakakitenga e rua hei whai mai i tērā, kotahi hei whakamaharatanga whakanui i te 150 tau o te Pakanga Te Kupenga, me te whakakitenga whakanui i te 151 tau mai i Te Pakanga o Kaokaoroa; ko te tuarua, he mea ka tū hei te tau 2016 he whakamaharatanga hoki ki ngā hoia o te Hokowhitu ā Tū 28, arā te hunga i hoki mai ki te kāinga i te tau 1946.    
Ko tā Wayne, ko tētahi o ngā mea tino pai rawa atu o ngā whakakitenga pararā, e taea ana te hari haere ki tēnā pito, ki tēnā pito o te rohe kia taea ai ngā kōrero te tiritiri ki ngā hapori.  I Wharaurangi ngā pararā i mua, heoi kātahi anō ka haria atu ki te taha o te wharenui o Mātaatua.  Ka tuwhera mai te whakakitenga Te Kupenga i Te Teko.