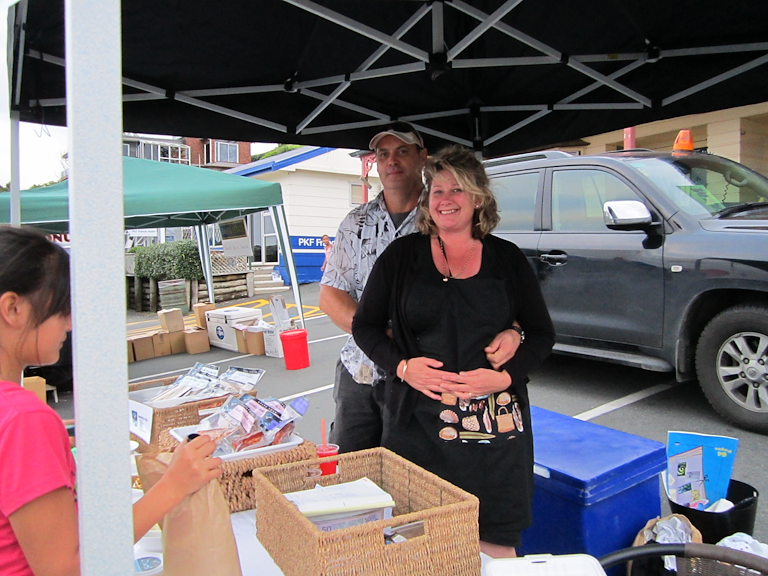 Think Māori – think Kai. Think Apatu Aqua – think kaimoana.
Situated in Coopers Beach, in the Far North, Hamish and Nichola Apatu have been running their fishing and processing business since 2003. They currently sell smoked kaimoana into the Auckland and Wellington markets. Apatu Aqua products can even be seen on the shelves of major supermarkets.
The whānau-owned company took part in an online IT assessment survey commissioned by Te Puni Kōkiri and Ngā Pū Waea. The survey looked at ways Māori businesses use technology, their challenges and potential areas for development. Apatu Aqua scored an overall mark which puts the company alongside other businesses using a small number of basic tools like email, calendar and cloud services. The mark indicated 'opportunity for development'.
Nichola Apatu says she hasn't had a chance to really consider the survey report as it came in summer, their busiest time of the year. However she has made some of the recommended changes through sheer necessity, like using cloud based programmes and an external hard drive for back up.
"I had to send my computer away to get fixed just before Christmas, our busy season. That meant downloading all of our information to a back-up drive and then transferring it onto my laptop. When my computer came back, we still had problems so my computer technician recommended we save to the Cloud. That has been great because everything is now linked up."
Like most of the Māori businesses involved in the ICT assessment survey, password and software security were other areas for improvement. It also suggested ways to better use social media to complement the company's website and social media presence.
"I'm useless at that sort of thing. Maybe I should do a social media course – when I can find the time," says Nichola.
One issue identified by Nichola was the need for a better way to print packing slips for orders. The review suggested, instead of using the traditional PC or laptop, to move to a tablet or android device for generating slips directly from their accounting software. A simple wireless printer, located on the packing floor, could then produce slips on demand.
"I've bought a wireless printer – I just need to put the disc into the laptop. I currently have to run upstairs to the office, print things off, not get distracted and remember to take the slips downstairs again so that will help. I am considering buying a tablet too."
As well as selling their seafood products, Apatu Aqua fish commercially. They sell about 80 per cent of their catch to Aotearoa Fisheries, and the other 20 per cent is processed in their factory then distributed to local restaurants, resorts and lodges. Their kina pate has won rave reviews from celebrity chef Al Brown, as well as a special artisan award from Cuisine Magazine. To top it off, they make smoked eel, smoked fish and smoked salmon and herb pate too.
I Kohia I Runga I Te Whakaaro Ki Te Ao Tūroa
Whakaaro mō te Māori, whakaaro mō te kai, ā, mā Apatu Aqua he whakaaro mō te kaimoana. 
Kei Coopers Beach i te Taitokerau, kua whakahaeretia e Hamish rāua ko Nicola Apatu tā rātou pakihi hī ika mai i te tau 2003. I tēnei wā kei te hoko atu rātou i ngā Kaimoana Mina-Auahi i ngā mākete o Tāmaki Makaurau, me Te Whanganui a Tara, ka kitea hoki ēnei i ngā tārenga o ngā hokomaha nui puta noa i Aotearoa. 
I whai wāhi atu te kamupene ā-whānau ki te rangahau ā-ipurangi nā Te Puni Kōkiri, PwC me IT Solved, he mea i āta tirotiro ki ngā momo whakamahinga o te hangarau i ngā whakahaere Māori, ki ngā wero me ngā wāhi torohū hoki mō te whanaketanga. I whiwhi a Apatu Aqua i te kaute 2.5 i te rima.
E kī ana a Nicola Apatu kāore anō ia kia whai wā ki te āta tiro i te pūrongo rangahau i te mea i tae mai i te raumati, ko te wā pukumahi rawa atu tērā mō tana pakihi.  Heoi anō i mate ia ki te whakatinana i ētahi o ngā huringa i tūtohua i te mea i te tino hiahiatia, pēnei i te whakamahi i ngā papatono(program) ahu-Kapua me te kōpae mārō ā-waho hei pūrua(back-up). 
"I mate au ki te tuku i taku rorohiko kia whakatikaina i mua tonu i te kirihimete, koirā te kaupeka e tino pukamahi ana mātou.  Nō konei i mate au ki te tikiake(download) i ō mātou mōhiohio katoa ki tētahi pūrua kōpae mārō me te whakawhiti atu i tērā ki taku rorohiko pona.  I te whakahokinga mai o taku rorohiko i te raru tonu taku rorohiko nō reira i tohutohu mai taku tangata rorohiko kia pūrua ngā mōhiohio ki te kapua. He tino pai rawa atu tēnei i te mea kua hono katoa ngā mea katoa ināianei."
Pērā i te nuinga o ngā whakahaere Māori i uru atu ki te rangahau aromatawai IT, ko ngā wāhi i tohua hei whakapiki ko te haumarutanga kupuhipa, pūmanawa hoki.   I tūtohua hoki ētahi huarahi hei whakapai ake i te whakamahinga o te pāpāho ā-pāpori hei kīnaki i te paetukutuku o nāianei otirā i ngā āhuatanga o Facebook me LinkedIn.
"He koretake au ki aua momo mahi.  Tērā pea, kia whai wā au me haere au ki tētahi akoranga pāpāho ā-pāpori," te kī a Nicola.
Tētahi take i kitea e Nicola ko te hiahia kia pai ake te āhua o te tā i ngā puka rawa mō ngā tono kaimoana.  I tūtohua i te aromatawai kia kaua e whakamahi i te PC, i te rorohiko pona rānei engari he pai kē atu te whakamahi i te iPad, i te android rānei hei whakaputa i ngā puka rawa tōtika mai i tā rātou pūkete Xero.  Nō konei e taea ai e tētahi pūrere tā ahokore i te papa mahi te whakaputa puka rawa i te wā tonu ka hiahiatia.  
"Kua hokona mai he pūrere tā ahokore, ko tāku noa iho ināianei ko te rau atu i te kōpae ki te rorohiko.  I tēnei wā kua mate au ki te piki whakarunga ki te tari ki te tā mai i ngā puka, kia kaua au e kōtiti, kia mahara hoki ki te whakahoki i ngā puka ki raro anō, nō reira kāore e kore he āwhina nui tērā.  Kei te whakaaro anō au ki te hoko iPad hoki au." 
I tua atu i hokohoko o ā rātou ake kaimoana, ka hī ika ā-arumoni a Apatu Aqua.  Ka hokona atu i te āhua 80% ka hopukia e rātou ki Aotearoa Fisheries, ka mahia tērā atu 20% i tō rātou ake whare umanga kia tohaina atu ki ngā wharekai, ki ngā whare taunga me ngā whare noho whaiutu.   Kua whiwhi tō rātou panihā(pâté) i ngā tino arotake mai i te kuki rongonui a Al Brown, otirā i whakawhiwhia rātou ki tētahi tohu motuhake mai i te Cuisine Magazine.  Hei whakakapi hoki, ka tunu tuna mina-auahi rātou, te ika mina-auahi, te hāmana mina-auahi me te panihā otaota hoki.