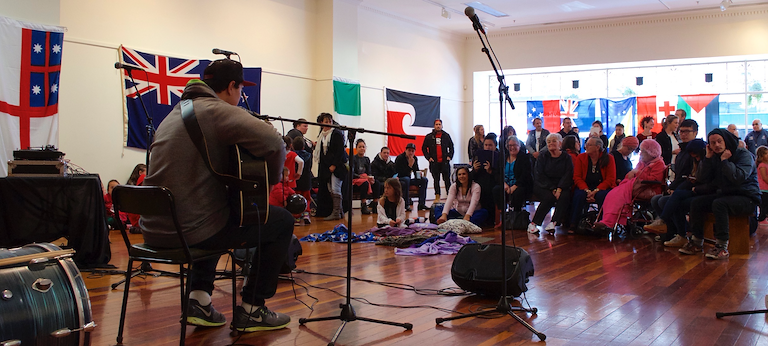 Bad weather and a change of venue did nothing to put off those at the Don't Forget Your Roots concert in Dunedin, where locals celebrated the 175th anniversary of the signing of the Treaty of Waitangi in Otakou.
The Treaty was taken around the South Island by Major Thomas Bunbury. Charged with collecting signatories from rangatira in the South Island, he sailed south on the HMS Herald. On 30 May 1840 Iwikau and John Love signed at Akaroa. On 10 June, aboard the ship, Hone Tuhawaiki, Kaikoura and Taiaroa made their mark. On 13 June, at Otakou marae, Hone Karetai and Korako signed the Treaty. Sailing northwards, Bunbury made his last South Island stop at Cloudy Bay collecting another nine more signatures from Maui Pu, Kahare/Hari, Puke, Nohorua [Tom Street], Waiti/Whaiti, Te Whi, Te Kanae, Pukeko and Kaikoura.
Otago City Council's Marilyn Andersen says Manaakitanga (looking after people), Collaboration (between Māori and Tauiwi) and Whānaungatanga (celebrating diversity and showcasing up and coming local talent) are the cornerstone values for volunteers, since the festival started 16 years ago.
Free hot drinks, water, sandwiches, pork buns, fruit and panekeke were enjoyed to the sounds of new comers Krizevac Tuitea and Ihaia Moeau, to folk singer/songwriter Kay Row and Wiremu Dennison, and there was a rare appearance by the Dunedin four-piece band Half Kutz. Resident DJ JAHRED, aka Jared Culling, kept the vibe going with his Waitangi Day music selection, while Green Party co-leader Metiria Turei and co-organiser Marie Laufiso were the selected few to speak about the kaupapa of the day.
Originally planned for the Octagon, Don't Forget Your Roots was moved to the Dunedin Community gallery. The stage backdrop took on special significance given the current moves to develop a new New Zealand flag. The backdrop was a banner created for a previous Waitangi Day festival, featuring the flags of New Zealand, the Union Jack, Scotland, Samoa, Tonga, Ireland, Tokelau and the national Māori flag.
The organisers of Don't Forget Your Roots received pūtea from the Commemorating Waitangi Day Fund, which supports events commemorating the signing of the Treaty of Waitangi, and promote nation and community building.
Kaua E Wareware Nō Hea Koe
Ahakoa te āhua o te rangi, te huringa rānei o te wāhi whakangahau, kāore he paku raru ki ērā i tae atu ki te konohete "Kaua e Wareware Nō hea Koe" i Ōtepoti, kia whakanuia e rātou te hunga o taua rohe te 175 tau nō te hainatanga o te Tiriti o Waitangi ki Ōtākou. 
I haria te Tiriti huri noa i Te Waipounamu e Major Thomas Bunbury.  Nā runga i ngā whakahau ki te kohi waitohu i ngā rangatira o Te Waipounamu, i haere ia ki te tonga mā runga i te Kaipuke HMS Herald.  I te 30 o Mei, 1840 i hainatia e Iwikau rāua ko John Love i Akaroa.  I te 10 o Hune i runga kaipuke i tohua e Hone Tūhawaiki, e Kaikoura me Taiaroa.   I te 13 o Hune i te marae o Ōtākou, i hainatia te Tiriti e Karetai rāua ko Kōrako.  Haere whakateraki ana, ka tū a Bunbury ki Te Koko o Kupe, tana tū whakamutunga, e 9 anō ngā waitohu i kohia e ia, i a Maui Pū, i a Kahere/Hari, i a Puke, a Nohorua [Tom Street], i a Waiti/Whāiti, i a Te Whi, i a Te Kānae, i a Pūkeko, ka mutu i a Kaikoura. 
E kī ana a Marilyn Anderson o te kaunihera o Ōtepoti ko te Manaakitanga, ko te Mahi Tahi (i waenga i te Māori me te Tauiwi) me te Whanaungatanga (te whakanui i te kanorau me ngā pūmanawa o ngā tāngata o te rohe) koirā ngā āhuatanga matua ki ngā tūao mai i te tīmatatanga o ngā taiopenga 16 tau ki muri. 
Tāwara ana ngā inu wera, te wai māori, ngā hanawiti, ngā paroa pouaka, ngā huarākau me ngā panekeke kore utu, ngahau ana hoki te hunga i tae atu ki te whakarongo ki te tira hou o Krizevac Tuitea rāua ko Ihaia Moeau, ki ngā kaiwaiata mōteatea/kaitito a Kay Row rāua ko Wiremu Dennison, ā, i puta mai hoki te pēne āhua kore nei te kitea a Half Kutz nō Ōtepoti.  Ka mau te wehi o DJ JAHRED, aka Jared Culling e whakangahau ana i te iwi me ana whiringa waiata mō Te Rā o Waitangi. I whiriwhiria hoki a Metiria Turei te tumuaki-ngātahi o te Green Party me te kaiwhakarite-ngātahi a Marie Laufiso kia kōrero mō te kaupapa o te rā.
I whakaritea tuatahitia kia tu ki te Octagon, kātahi ka nekehia te taiopenga "Kaua e Wareware Nō hea Koe" ki te Taiwhanga Hapori o Ōtepoti.  I runga i ngā mahi whakarite haki hou mō Aotearoa o nāianei i tino motuhake te tirohanga atu ki te pakitara a-muri o te atamira.  He pānui whakaahua tēnei i hangaia mō tētahi taiopenga o mua e whakanui ana i Te Rā o Waitangi, he mea i tāngia ki ngā haki o Aotearoa, ki te Uniana Haki, te haki o Kōtimana, o Hāmoa,  o Tonga, o Airani, o Tokelau, tae atu hoki ki te haki o te Tino Rangatiratanga, ka tika hoki!