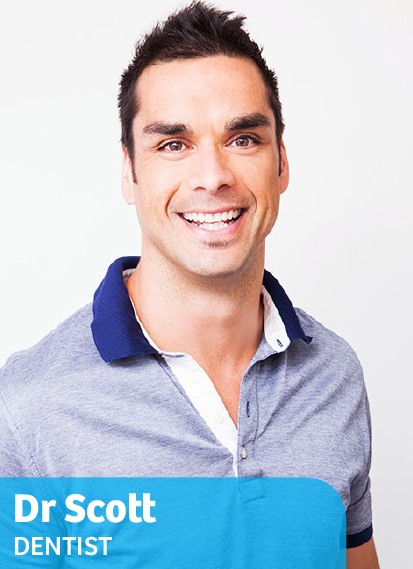 Famous for offering 'free dental services' one day a year at his practice at Dentalcare West in Auckland, Dr Scott Waghorn (Ngāpuhi and Ngāti Hine) is happy to admit that he's a nerd when it comes to IT stuff.
"You can't fix what you don't know about and IT helps you know what is going on. In the past I used to wait for reports from my business advisors – now I can get a day by day picture of how my business is going."
Dr. Scott was very happy to participate in the online survey commissioned by Te Puni Kōkiri and Ngā Pū Waea. It looked at ways Māori businesses use technology, their challenges, and potential areas for development.
Dentalcare West scored one of the highest overall marks, with a rating 4 1/2 out of five.
"Six years ago I brought in an IT expert to audit the system and make recommendations about future development. It lead to the introduction of a customised dental system, which amongst other things allows patients to book online," he says.
Dr Scott graduated as a dentist in 2004. He joined Dentalcare West as an associate in 2006 and then bought the practice in 2008. Since then he has grown it into the largest dental practice in New Zealand, with 14 surgeries nine dentists, four hygenists and dental therapists and twenty plus support staff.
Dr Scott says it's important to develop good IT habits, and his participation in the survey resulted in high marks for password security, adoption of cloud services, web-presence, and internet access and adoption.
As well as Dentalcare West, Dr Scott owns two other practices in Newmarket and the North Shore. They all share the same IT system. He says he was pleased that they scored so well on the IT assessment survey, but even more importantly it prompted him to run with an idea that he'd been tossing around for a while.
Dr Scott is big on transformation, making a real difference in his community. With estimates of about 50,000 clients on the books, and more ideas to expand their services, Scott knows IT will be critical to driving that change.
He Menemene ki Tua
He rongonui mō ngā 'mahi whakatikatika niho utukore' kotahi rā i te tau ia tau i tōna wāhi mahi i Dentalcare West i Tāmaki Makaurau, kāore he raru ki a Tākuta Scott Waghorn te kī ake he 'nerd' ia ina ko te IT te kaupapa.
"Kāore e taea te whakatikatika ngā mea kāore e mōhiotia ana, ā, ka taea e te IT a koe te āwhina kia mōhio he aha te aha.  I ngā rā o mua i mate au ki te whanga kia tae mai aku pūrongo i aku kaitohutohu pakihi engari ināianei kei te whiwhi au i tētahi pikitia o te haere o taku pakihi, ia rā, ia rā."
I whakapōtaengia a Tākuta Scott hei tākuta niho i te tau 2004. Ka tīmata ia ki Dentalcare West hei hoamahi i te tau 2006, ā, i hoko ia i te pakihi i te tau 2008. Mai i taua wā kua whakatipu ia i te pakihi, ināianei koia te whare niho nui rawa atu puta noa i Aotearoa.  14 ngā taiwhanga rata mā ngā tākuta niho tokoiwa, ngā kaiakuaku me ngā kaiwhakatikatika niho tokowhā me ngā kaimahi tautoko neke atu i te rua tekau.
He pai noa iho ki a Tākuta Scott ki te whai wāhi atu ki te rangahau ā-ipurangi nā Te Puni Kōkiri, PwC me IT Solved, he mea i āta tirotiro ki ngā momo whakamahinga o te hangarau i ngā whakahaere Māori, ngā wero ka puta mai me ngā wāhi torohū mō te whanaketanga. I whakawhiwhia a Dentalcare West ki tētahi o ngā kaute nui o ngā kaute katoa me te whakataunga o 4.5 i te rima. 
"E ono tau ki muri i haria mai e au tētahi tohunga IT hei tātari i te pūnaha me te whakatakoto tūtohutanga mō te whanaketanga i tua atu.  Nō konei i tīkina atu tētahi pūnaha niho i whakaritea kia hāngai tonu ki taku wāhi mahi, ko tētahi o ōna āhuatanga i ngā āhuatanga maha o te pūnaha e taea ana e ngā kiritaki te tāpui(book)[W1]  mai ā-ipurangi," tana kī. 
E kī ana a Tākuta Scott he mea nui kia whakawhanake i ngā ritenga IT pai, me te mea nā tana whai wāhi atu ki te rangahau i whiwhi rātou i ngā māka nui mō te haumarutanga kupuhipa, te whakamahinga o ngā ratonga Kapua, te kitenga i runga ipurangi, te urunga ipurangi, me te tīkina wawetanga o ngā hangarau. 
I tua atu i Dentalcare West, e rua atu anō ōna whare rata niho i Newmarket me te North Shore. He ōrite te pūnaha IT e whakamahia ana e rātou. I kī ia i harikoa ia i tō rātou whiwhinga i te rangahau aromatawai IT, engari i tua atu i tērā he mea akiaki i a ia ki te whai i tētahi whakaaro kua roa e wānangahia ana e ia. 
He mea nui te panonitanga ki a Tākuta Scott, kia mahi ia i ngā mahi e tino whaihua ai ki tōna hapori.  I te mea he tata ki te 50 mano ngā kiritaki i runga i ngā pukapuka, me ngā ariā mō te whakawhānui atu i ana ratonga, e mōhio ana a Scott he mea nui te IT ki te whakatinanatanga o aua panonitanga.