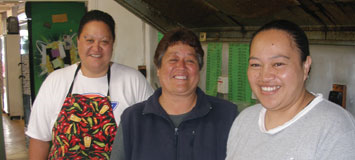 If you are driving through the Northland town of Moerewa on a hot day after swimming at the beach and you're hungry, call into Whaanga Takeaways on Moerewa's main road.
Whaanga Takeaways is owned by Meileen Whaanga (Ngāpuhi) who brought the business with the support of her whānau. "I've worked in this takeaway shop for 10 years, through three owners, and I couldn't see myself owning my own business," says Meileen. "But I'm so proud that I do. Business has never been better and I'm so thankful to my whānau for their support," she says.
Whaanga Takeaways employs six members of Meileen's immediate whānau who help out with the business. Te Puni Kōkiri's Business Facilitation Service has been providing Meileen with an experienced mentor to help her further develop her business.
"Te Puni Kōkiri has been fantastic in supporting me and my whānau to succeed in business and I would like to thank Carol for her support as well," says Meileen.
Whaanga Takeaways is open seven days a week from 11am to 8pm.
For more information, or to talk with Meileen, phone Whaanga Takeaways on 09 404 1352.