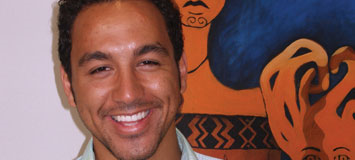 Two young Māori leaders have been selected to be part of the New Zealand delegation on the Ship for World Youth 2009.
Twenty-three-year-old Areti Metuamate (Ngāti Raukawa, Ngāti Kauwhata, Tainui-Waikato) and 21-year-old Kieran Brown (Ngāti Raukawa, Muaupoko) were selected to be part of the national delegation of 12, which was selected from a wide pool of talented young leaders from across the country.
"This is an awesome opportunity to build relations with other young people from around the world and to start a meaningful dialogue about international affairs and New Zealand's place in the world," says Areti Metuamate. The Ship for World Youth is an international leadership programme sponsored by the Japanese Government with participants who are young leaders from all across the world. Participants will gather in Japan and then travel together on a ship to Vanuatu, Tonga and Aotearoa (the destinations vary each year so New Zealand is privileged to be hosting the ship in Auckland this year).
While in Japan, the delegation is scheduled to meet the Crown Prince and Prime Minister in Tokyo before spending time in homestays experiencing home life in Japan. The programme's aim is to broaden the participants' international perspectives and build solid international relationships by involving them in various activities both onboard the ship and in the port of call countries.