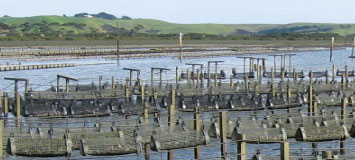 Oyster farming Michael Murray (Ngāti Kurī, Rongomaiwahine) gave up a long teaching career to return home and start his own aquaculture business.
After seven years of teaching in Raglan, Michael and his wife Eileen decided to return home to Te Rangiāniwaniwa in the Far North with their three sons Jaylen, Taitimu and Heremaia. Initially Michael taught at his sons' kura – Te Kura Kaupapa Māori o Te Rangiāniwaniwa. He then decided on a career change, and bought an eight-hectare oyster farm at Parengarenga. This was the beginning of his business – JTH Oysters.
"JTH Oysters is a whānau affair. Eileen helps out, my mum is involved and the business name is the initials of our three sons," says Michael.
In the first year, JTH Oysters produced 40,000 dozen oysters. Now JTH aims for 120,000 dozen oysters per year. To meet the growing demands of his markets Michael purchased another five-hectare farm lease. Michael has now been oyster farming for more than three years and business continues to grow. In June 2008, Michael opened his oyster processing factory in Awanui. He now employs three full-time and two part-time staff including a farm manager.
Recently JTH secured an exporter's licence to enable them to export to Asia, the Middle East and Hong Kong. "We are also looking at marketing our own label and will hopefully be trading as White Sands Oysters," says Michael.
Te Puni Kōkiri has supported Michael in his business by providing mentoring support to help with his strategic plan, and with applying for business grants and with forecasting projections for the next five years. "I couldn't have done it without Te Puni Kōkiri's help. The mentors have been awesome just to talk with as an independent ear – sometimes you need that to stay focused in business," says Michael.
For more information or to contact Michael, phone 021 846 462 or email panair@xtra.co.nz