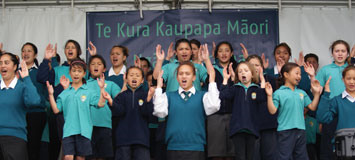 Te Rā o Kupe, the summer festival of Te Kura Kaupapa Māori o Ngā Mokopuna, celebrated its fifth year recently. Te Rā o Kupe is the kura's annual icon event hosted onsite in Seatoun, Wellington.
"Each year the festival continues to grow in popularity and attracts more and more people," says event manager Sharon Jensen (Ngāpuhi, Ngāti Porou).
The day was officially opened by mana whenua - Sam and June Jackson along with the Wellington Mayor, Kerry Prendergast. The festival attracted well-known singers including MTown, La Femme and Howard McGuire's quartet.
The festival celebrates and honours the area's history particularly the significance of Māori explorer Kupe, who was the first Māori to visit the area. Many places around Wellington are named by Kupe or after his journey, like Te Tangihanga-a-Kupe (Barrett Reef), Te Turanganui-a-Kupe (Seatoun Beach), Te Aroarao-a-Kupe (Steeple Rock), and Matiu (Somes Island) and Mākaro (Ward Island) – named after his niece and daughter.
Te Kura Kaupapa Māori o Ngā Mokopuna was established in 1996 in Newtown, Wellington, by whānau in central Wellington keen to pursue te reo Māori immersion education for their children who had completed kōhanga. In 2002, the kura outgrew its Newtown premises and moved to Seatoun (Kirikiritatangi) on the south-eastern bays of Wellington. The kura draws its name from the motu that it overlooks, Mokopuna Island. Plans are already underway for Te Rā o Kupe 2009.