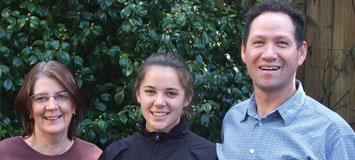 Jessica Rollings (Ngāti Whare) recently represented New Zealand at the inaugural FIFA Under-17 Women's World Cup.
Jessica was selected as part of the New Zealand Young Football Ferns squad who competed for the World Cup competition hosted by New Zealand recently.
"It's an awesome experience playing for your country and running out on the field wearing the silver fern. Nothing gets better than that," says Jessica. "I was the first wahine from Ngāti Whare to represent New Zealand in a Football World Cup," she laughs. Jessica has been playing football since 2000 where her first junior football club was Waitākere City. After her whānau moved back to Rotorua Jessica's football career took off.
Jessica played for Otonga Juniors and was selected for the Rotorua team. She made the Bay of Plenty/Waikato representative team Force3 and was eventually drafted into the New Zealand Under-12 girls' development squad in 2004.
Her whānau then moved to Mount Maunganui, where she played for Mount Maunganui College senior team and Ōtumoetai Women's senior team, who won the Bay of Plenty division one competition for the first time. In 2005, Jessica played for the Bay of Plenty/Waikato representative Force 3 Under-14 girls' team, who for the first time won the national age group competition in Napier.
And in 2006, Jessica was reselected for the Force3 Bay of Plenty/Waikato Under-16 team and was selected for the New Zealand squad to attend national football camps.
"The New Zealand Under-17 coach Paul Temple invited me to shift to Auckland and attend Epsom Girls' Grammar School and play for the top senior women's club, Western Springs," says Jessica.
"Since this move I made it into the New Zealand Under-17 Women's Young Football Ferns team," she says.