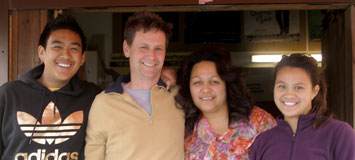 Husband and wife John and Desiree (Te Rarawa, Ngāpuhi, Ngāti Whātua) Upperton wanted to expand their business and help people stay in Kaikohe.
They noticed there were heaps of large, old weatherboard houses in Kaikohe with hardly any options for elderly to downsize to smaller homes.
Leveraging off their existing business, Castle Duo (Kaikohe's two-screen movie theatre), the pair established Kohe Cottages Ltd and began planning their second business. Kohe Cottages Ltd started by selling 12 cottages built for those who are 55 years and over. All cottages are high quality and low maintenance and range in price from $145,000 to $165,000.
They have completed four units, with four residents, and have two more at shell stage that could be completed in six weeks. They also have all utilities completed for all units and are risk and debt free.
"Since the credit crunch we have had heaps of enquiries from people wanting to downsize and even move home from as far away as Australia," says Desiree.
"We are not big-time developers and we have avoided the credit crunch by doing a lot of planning and staying focused on supporting our elderly into good quality, low maintenance housing," she says.
For more information email castleduo@maxnet.co.nz or phone 0800 564 326.