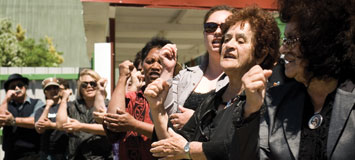 "Never give up – if it's worth having, it's worth fighting for" was Iritana Tawhiwhirangi's message for the crowd of friends, whānau and supporters. Iritana was presented with Te Tohu Tiketike a Te Waka Toi, the premiere Te Waka Toi Award for Māori artists who have demonstrated a lifetime commitment to their art and who are leaders in their field.
The award ceremony on Sunday 16 November 2008 at Te Hauiti marae in Tolaga Bay was an acknowledgement by Creative New Zealand and Te Waka Toi of Iritana's pivotal role in the creation of the Te Kōhanga Reo Trust.
The Chair of Te Waka Toi, Dr Ngahuia Te Awekotuku, emphasised the importance of te reo as the cornerstone of Māori arts and culture. She said Iritana Tawhiwhirangi was awarded Te Tohu Tiketike for being one of the "visionaries and leaders who ensure the arts continue".
"Iritana is part of a line-up of celestial art makers who form the recipients of Te Tohu Tiketike. Among the former recipients of this award are Diggeress Te Kanawa, Sir Howard Morrison and the late Te Arikinui Te Atairangikaahu, for her great support of the arts."
Receiving her award, Iritana Tawhiwhirangi focused on the future saying, "I have the greatest faith in the new generation coming through to carry on with the kaupapa."