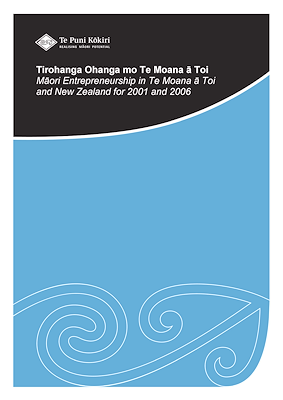 Tirohanga Ohanga mō Te Moana a Toi: Māori Entrepreneurs in Te Moana ā Toi and New Zealand for 2001 and 2006
Table of contents
Methodology
This report brings together quantitative information drawn from Statistics New Zealand's 2001 and 2006 Censuses. The analysis is limited to changes over this timeframe with information based on New Zealand and the Bay of Plenty14 Regional Council area.
This report includes information on Māori entrepreneurs at a New Zealand level, and each regional council (with a few exceptions), with a particular focus on Māori entrepreneurs in the Bay of Plenty region who were employed full-time. It will highlight numerical and percentage changes in Māori entrepreneurial activity from 2001 and 2006 for each of the following variables:
Industry;
Median personal income; and
Highest qualification
---
14 For the purposes of this report the Bay of Plenty region includes: Western Bay of Plenty District; Tauranga City, Rotorua District, Taupo District, Whakatane District, Kawerau District, and Opotiki District.