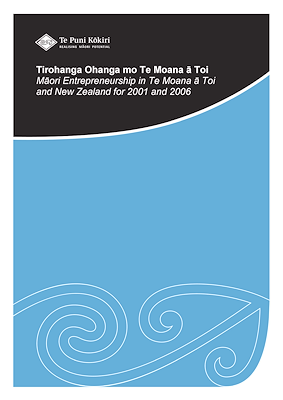 Tirohanga Ohanga mō Te Moana a Toi: Māori Entrepreneurs in Te Moana ā Toi and New Zealand for 2001 and 2006
Table of contents
Purpose of the Report
The purpose of reporting on Māori entrepreneur statistics for the Bay of Plenty region was to add value to Te Puni Kōkiri's regional evidence base of Māori entrepreneurs in Te Moana a Toi and Te Arawa.
This information will contribute towards the region's evidence base of Māori businesses and to help support Māori policy making decisions, fact sheets and regional profiles.
These statistics provide evidence of the importance of Māori entrepreneurs and their significant contribution to New Zealand's economy. Also these statistics are an important contribution to the compilation of nationwide Māori commercial asset base statistics. 12
---
12 For New Zealand, the Māori commercial asset base has increased from $9 billion to $16.5 billion from 2001 to 2005/2006. An increase of 84%, this represents 1.5% of the value of the New Zealand business sector in 2005/06, just slightly better than the 1.2% in 2001.