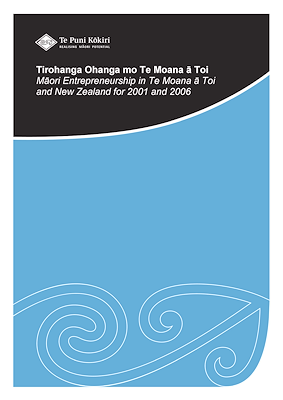 Tirohanga Ohanga mō Te Moana a Toi: Māori Entrepreneurs in Te Moana ā Toi and New Zealand for 2001 and 2006
Table of contents
Defining and Measuring Entrepreneurship
Entrepreneurship has long been seen as a key driving force of a free market economy. Modern definitions of entrepreneurship emphasize a strong link between entrepreneurship and innovation and distinguish entrepreneurship from a simple form of management. Entrepreneurship is also seen as a critical link between new knowledge and economic growth as it facilitates the transfer of knowledge.
In the absence of internationally comparable indicators that capture the real innovative nature of entrepreneurship it is difficult to draw firm conclusions about the true level of entrepreneurial activity in New Zealand or any other country. Given the likely effect of entrepreneurship on economic growth, indicators that capture its innovative nature will be important for good policy outcomes for Māori6, especially in a small open economy like New Zealand.
The measurement of Māori entrepreneurships7 in this report will be focused on self employed without employees as well as self employed with employees. These are the most robust official data sources available to measure entrepreneurship at present. Although we acknowledge other definitions of entrepreneurship exist as well.
---
6 Māori for the purposes of this report refers to the Māori ethnic group. The Māori ethnic population is the count for people of the Māori ethnic group. It includes those people who stated Māori as being either their sole ethnic group or one of several ethnic groups. Where a person reported more than one ethnic group, they have been counted in each applicable group. See the Ethnicity/Ethnic group definition under the Technical notes at the end of this report for more detail.
7 Entrepreneurship for the purposes of this report uses the combined totals of two Statistics New Zealand's census employment status categories, namely: (a) self-employed without employees; and (b) employer. This data relates to employed people aged 15 years of age and over.