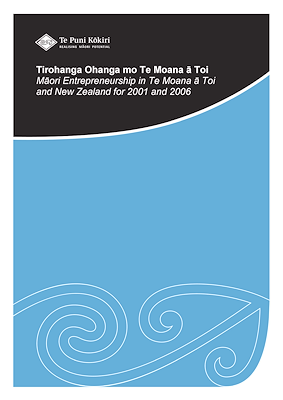 Tirohanga Ohanga mō Te Moana a Toi: Māori Entrepreneurs in Te Moana ā Toi and New Zealand for 2001 and 2006
Table of contents
Māori Entrepreneurship in New Zealand and the Bay of Plenty Region, for 2001 and 2006
The number of Māori entrepreneurs in New Zealand increased by 3,978 or 23.3%8 from 2001 to 2006 (see table 1 below). Measuring the number of Māori entrepreneurs is one proxy indicator of Māori participation in the Bay of Plenty region9 and the New Zealand economy, and also a possible indicator of Māori entrepreneurship10.
This report will focus on comparing Māori entrepreneurship in 2001 and 2006.
Māori entrepreneurs are a significant contributor to:
the Māori commercial asset base; and
Māori participation in the New Zealand economy in terms of value added11 to New Zealand's Gross Domestic Product (GDP).
Moreover, Audretsch (2007) argues in his research that entrepreneurship represents a critical link between research and development and economic growth as it facilitates the transfer of knowledge created in incumbent organisations to other organisations.
New Statistical Knowledge on Māori Entrepreneurs
Refinements made in customising Statistics New Zealand's (Tatauranga Aotearoa) census datasets have enabled the creation of new knowledge on Māori entrepreneurs (or self-employed individuals with and without employees) with statistical breakdowns by: regional council; industry, and median total personal income. This will enable policy makers to identify:
Counts of Māori entrepreneurs by industry in the Bay of Plenty region and New Zealand for 2001 and 2006, and
Māori entrepreneurs' median total personal incomes for each major industry in the Bay of Plenty region and New Zealand.
This new knowledge will enable a better understanding of Māori entrepreneurial activity, including the industries that Māori entrepreneurs are engaged in, their total personal incomes, and the growth in Māori entrepreneurial activity from 2001 to 2006.
---
8 This includes both employed full-time and part-time Māori entrepreneurs. Full-time is equal to Māori working 30 or more hours per week in business. Part-time is equal to Māori working 1-29 hours per week. Also, employed is related to work in the 7 days prior to 5th March 2006 and 6th March 2001. The analysis shown in tables and graphs is for the job a person worked the most hours in.
9 For the purposes of the data used in this report, the Bay of Plenty region refers to the Bay of Plenty regional council boundaries and includes the following areas: Taupo District, Western Bay of Plenty District, Tauranga City, Rotorua District, Whakatane District, Kawerau District and Opotiki District. For more details refer to "Regional Council" in the Technical notes at the end of this report.
10 Kukoc and Regan (2008), states: "The job of finding the right indicators of entrepreneurship is not an easy one. Entrepreneurship is an inherently intangible concept: a complex and dynamic activity that is often interlinked with a range of other business activities and outcomes in the economy. Thus, the key issue in measuring entrepreneurship is how to disentangle the entrepreneurial activity from other, more ordinary business activities." (p. 19).
11 Value added refers to the value of a firm's output minus the value of intermediate goods bought from other firms.