Karawhiua was a unifying campaign for whānau, hapū, iwi, and Māori communities to help prevent the spread of COVID-19.
Last updated: Monday, 14 August 2023 | Rāhina, 14 Hereturikōkā, 2023
Complementing the Unite-Against-COVID-19 campaign, it was led by Te Puni Kōkiri and co-designed with the Iwi Communications Collective and Te Hiringa Hauora-Health Promotion Agency and supported by Unite-Against-COVID-19 and Manatū Hauora.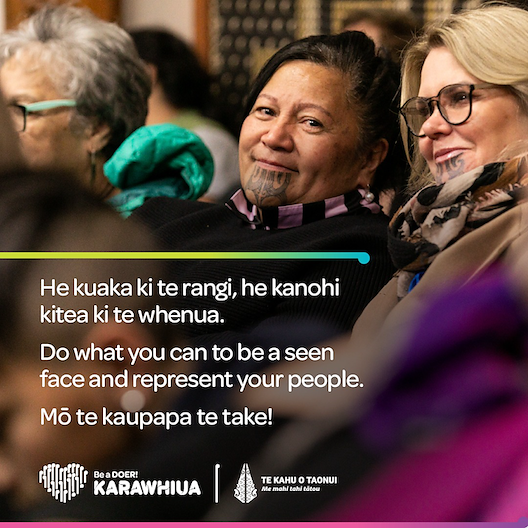 The campaign's objectives were:
to mobilise 500,000 Māori to get vaccinated
to empower whānau to make the best decisions for them and their whānau
to provide locations of kaupapa Māori and mainstream vax and testing centres
The establishment of Karawhiua was positively mentioned by the Waitangi Tribunal. The Haumaru: The COVID-19 Priority Report found that Māori Health needs were not being adequately met by the government's response to COVID-19, and the campaign had helped meet some of those needs.
Campaign activation included social media and from time to time, mainstream media including television, Iwi radio and out of home, billboards and posters. Google display ads and search supplemented the digital activity and was largely funded through sponsorships with Meta and Google.
The Karawhiua.nz website was the central pou of information and resources with the Call to Action for all campaigns directing whānau back to the website.
Watch whānau speak about their COVID journey by watching the Karawhiua videos on the Te Puni Kōkiri YouTube channel. Read whānau stories below.
The 2022 campaign performance is described in the Te Puni Kōkiri 2021/2022 Annual Report.
The campaign transferred to Te Aka Whai Ora on 1 April 2023.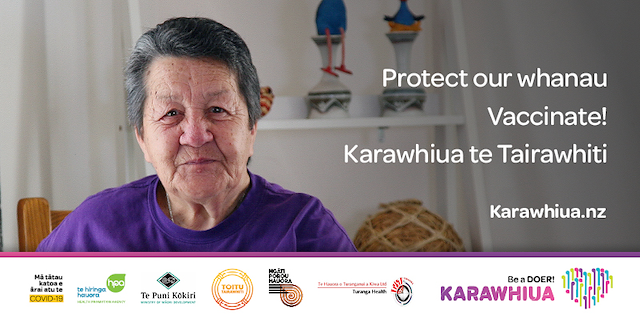 Karawhiua pānui
26 Nov 2021 - Movie Max-Vax Event at Hopuhopu 
10 Nov 2021 - Tō Uru Raumati, Have Yours? 
19 Oct 2021 - Iwi driven Māori vaccination campaign reaches Te Tau Ihu whānau 
21 Sept 2021 - Getting vaccinated with a mate on campus at the University of Waikato