Te Pae Ārahi supports Māori representation on public service boards, committees, and advisory groups.
Te Puni Kōkiri launched a new online Nominations Service Te Pae Ārahi in 2021 to make it easier for individuals to register and update their details.
Last updated: Tuesday, 6 December 2022 | Rātū, 06 Hakihea, 2022
What's on this page?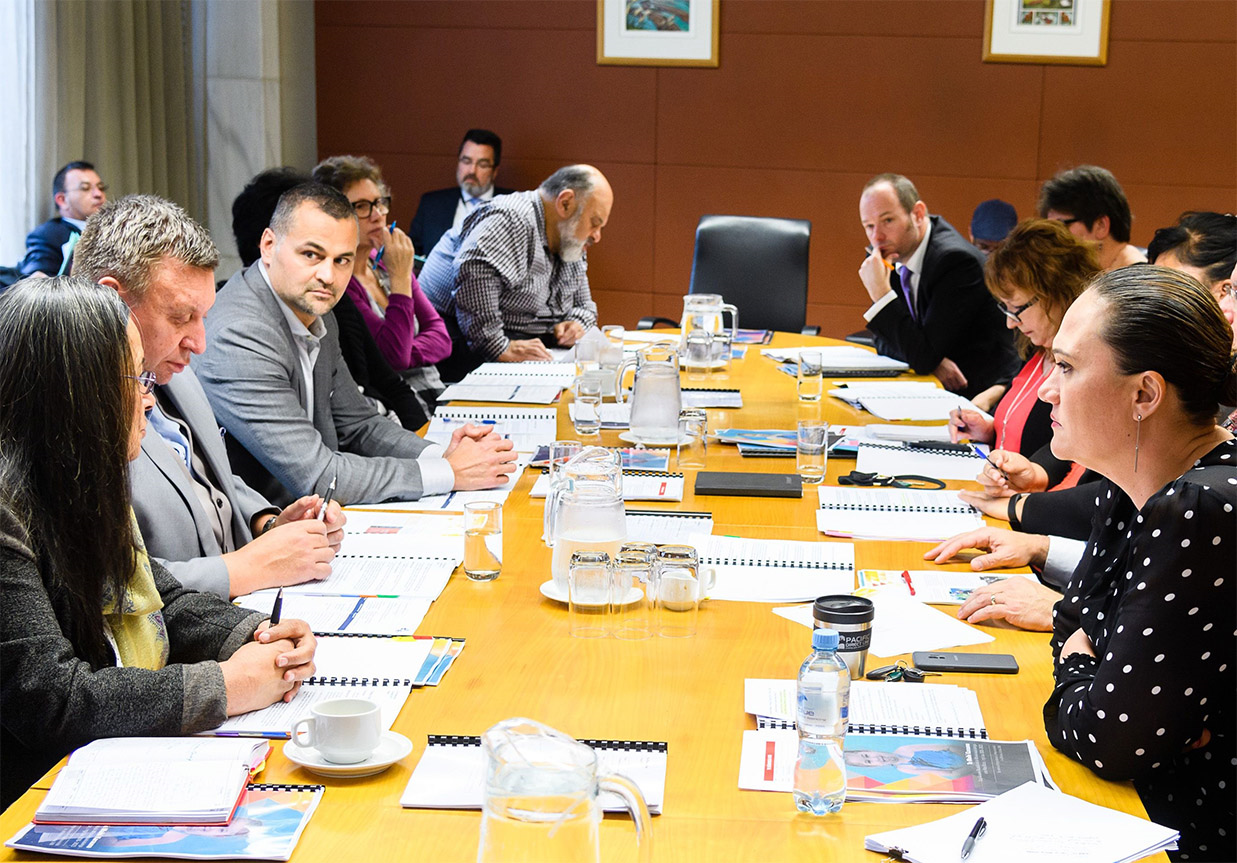 Introduction
Te Pae Ārahi provides a "live" database of candidates that can be matched with governance opportunities on public service boards, committees, and advisory groups.
Anyone who has a strong commitment to Māori development and believes they have the skills and qualities to make a strong contribution to government bodies can register online with Te Pae Ārahi.
Mā mua ka kite a muri
Mā muri ka ora a mua
Those who lead give sight to those who follow
Those who follow give life to those who lead
Information about the nominations service and how to register for Te Pae Ārahi can also be found in this brochure.
Governance opportunities
Te Puni Kōkiri advises a wide range of Ministers and government agencies on suitable candidates for public service governance roles in particular the Minister for Māori Development and Minister for Whānau Ora. 
The Minister for Māori Development is responsible for one or more appointments to certain organisations including;  
In demand experience
Ministers and government agencies are particularly keen to attract people with a commitment to Māori development who have experience:
financial and business management
education, health and social policy development
engineering, resource management, science and technology, and other applied technical fields
research and ethics
public sector management
governance
te reo Māori revitalisation
iwi and/or community development work.
How to register
Upload your personal details including a current curriculum vitae (CV) with the Te Puni Kōkiri Nominations Service.
The online Service allows you to up-date your details and CV anytime. This is one of the major advantages of having an online Service.
The personal information you provide will be treated with the strictest confidence. Read the privacy provisions.
We look forward to receiving your registration. If you want to discuss anything about this process, please email us at nominations@tpk.govt.nz or telephone our National Office at 0800 875 663.
Frequently asked questions
Will you put my name forward for everything?
No. Your name will not be forwarded for every nomination request. Agencies request the skills, qualifications and experience they need and we match candidates carefully with the requirements of each position.
If I am offered an appointment, can I turn it down?
Yes. You are not obliged to accept an appointment if it is offered to you.
Are my details confidential?
The information we hold on the database, and any profiles Te Puni Kōkiri generates from the information you provide, will only be used by our Nominations Service. We treat this information in strict confidence.
When you register, you decide if Te Puni Kōkiri can share your information with other agencies or Ministers for consideration of other appointments. You can change your selection at any time by logging in and amending this setting.
How can I check the information you have about me?
You can check, update your details or withdraw your details anytime via the online Te Puni Kōkiri Nominations Service. If you want to discuss anything about the registration or maintenance of your profile on the Nominations Service, please email us at nominations@tpk.govt.nz or telephone our National Office at 0800 875 663.
Can I nominate someone else?
No. If you know of someone you think would be great on a government board, committee, or advisory group please encourage them to register with the Te Puni Kōkiri Nominations Service.
Individuals must provide their private details to us directly to maintain the confidentiality of that information.
If I provided my details to the previous Te Puni Kōkiri Nominations Service do I need to register with the new online service?
Yes, you do need to upload your most current details and CV on to the new online Nominations Service.
Can I submit my registration in Te Reo Māori?
Āe marika. Yes.
Is this a jobs database?
No. This is not a service to find a job. We're looking for people to serve on government boards, committees and advisory groups.
I've just graduated from a tertiary institution, should I register on this Service?
Congratulations on your achievement!  Most agencies are looking for people with extensive senior experience, although increasingly government agencies are also keen to encourage rangatahi into governance roles.
There is nothing stopping you from registering on the database and updating it as you go.
Where can I go to find out more about governance or governance training?
Te Puni Kōkiri has general information about governance and the extra considerations for Māori in governance on its website.
There are a number of private and professional organisations that offer governance training include the Institute of Directors in New Zealand and Māori organisations such as Te Tumu Paeroa and Te Wharehukahuka. Look online for organisations that offer suitable governance training.
What other nominations databases are there?
Several other government agencies also have nominations services, including: