For the first time in 30 years Kohupātiki Marae in Hastings hosted Governor General Sir Jerry and Lady Janine Matepārae signalling a four-day tour across the region.
Published: Monday, 24 August 2015 | Rāhina, 24 Hereturikōkā, 2015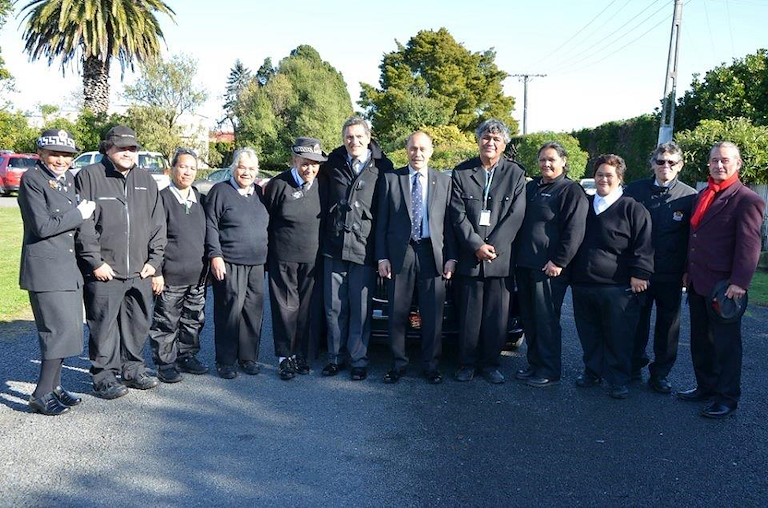 The last Governor-General to visit Kohupātiki was for the rededication of the marae during the 1985-1990 term of Sir Paul Reeves, who had been Archbishop of New Zealand.
The Mataruahau and Ahuriri Māori Wardens from Napier, and the Heretaunga Māori Wardens from Hastings (pictured) provided traffic management and parking duties for the Governor General during his visit to the Ngāti Kahungunu region.
Sir Jerry attended a number of events in the region, including the regional annual Matariki Living Taonga awards that recognise unsung heroes, and made his first visit to a prison as Governor-General.
Matepārae presented certificates to three inmates at the Hawke's Bay Regional Prison who had graduated from the New Zealand Howard League for Penal Reform Literacy programme.
"You can see in the eyes of the guys when they got their certificate that it meant a lot to them. So if it means a lot to them, it means a lot to me," said Sir Jerry.
Image (left to right): Anita Rouse (Ahuriri), Lee Grace (Mataruahau), Gaylene Kiripatea (Mataruahau), Anne Henare (Heretaunga), Rose Puna (Ahuriri), Robert (Brad Pitt) Whaitiri, Sir Jerry Matepārae, Ronald Henare (Heretaunga), Minnie Ratima (Mataruahau), Julie Kohu (Mataruahau), Tony Roudon (Ahuriri), and Laurie Te Nahu (Māori Advisor, HBDHB).