Murihiku Māori Wardens have taken out the Supreme Award at the 2015 Trustpower Invercargill Southland Community Awards.
Published: Wednesday, 16 December 2015 | Rāapa, 16 Hakihea, 2015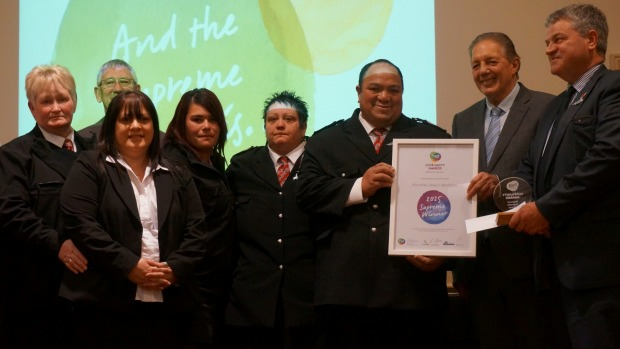 The award was presented at a ceremony held at the Civic Theatre in front of a crowd of more than 110 volunteers and dignitaries.
The group received a trophy, framed certificate, $1500 and the chance to represent Southland at the Trustpower National Community Awards in Dunedin in March 2016.
Murihiku Māori Wardens operations team leader Mandy Reti said she was 'shocked' her organisation won.
"We didn't know we were getting it.  We were in utter shock.  There were so many people there that do such amazing work in the community."
Reti said the $1500 the group of 12 members won would be especially helpful to the Wardens especially around training.
Reti said the training involved 200 hours of physical work and modules before a trainee could be put up for warrant. She said she hoped to put the Murihiku trainees up for warrant by March 2016.
Trustpower Community Relations Representative Arielle Monk says it was heartening to see a Māori organisation take out the top award, which a judging panel voted by unanimous decision.
"As someone who grew up around Māori Wardens in my own community in the Waikato, it was a very proud moment to be able to present the Murihiku rōpū with the Supreme Award," she said.
"We're really stoked for the Murihiku whānau because Māori wardens often fly under the radar and work away quietly in the back ground.  This award is so representative of what wardens do right across Aotearoa."
The Murihiku Māori Wardens were presented their Supreme Award certificate, trophy and cheque for $1500 by Trustpower Community Relations Manager Graeme Purches, Invercargill Mayor Tim Shadbolt and Southland Mayor Gary Tong.