Māori Wardens are unique to New Zealand life. Following the anniversary of the Kaikōura earthquakes, we meet the Kaikōura Wardens. It is a group committed to securing a strong future for its distinct volunteer organisation and giving it a fresh face for the future.
Published: Thursday, 23 November 2017 | Rāpare, 23 Whiringa ā-rangi, 2017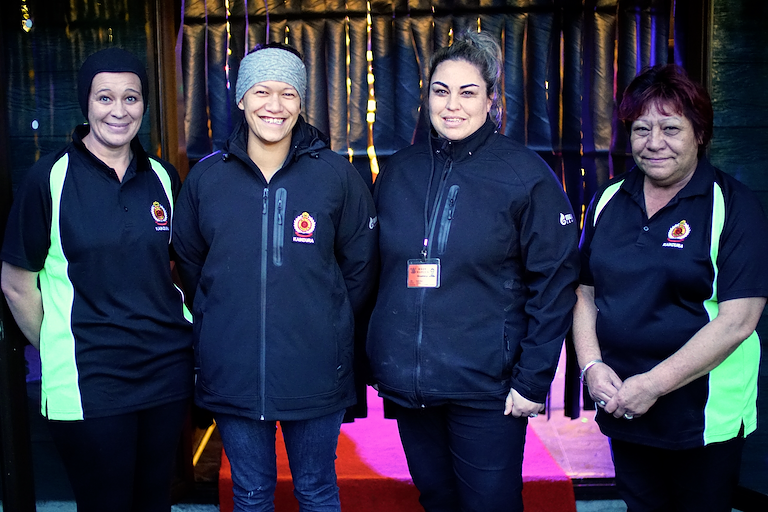 Jaegan Taylor is 25. Following in the footsteps of her mother, aunty and godmother she is also a Māori Warden in Kaikōura. Heavily pregnant when she made the decision to join the organisation, Jaegan had to wait.
Over the following months she listened to her Aunty, Ari Boyd, and late godmother Nancy Reeves worriedly discuss the poor state of their community and wonder what they could do to turn things around. One day the phone rang and everything changed.
"I got a phone call from an ex-businessman and friend who explained there were some rangatahi causing problems for local businesses in town. He asked if we had Māori Wardens in Kaikōura," says Ari.
"There were Māori Wardens in Blenheim but not Kaikōura. So I called my Mum's cousin, Whāea Josie Ngata in Blenheim, for advice on setting up a Kaikōura rōpū."
One thing led to another and in January 2014 four warranted Māori Wardens were patrolling the streets. As their community presence grew, through street patrols and helping out at local events, the unruliness calmed down.
By then Jaegan's baby was born and she got underway with living her dream of being a Māori Warden. Then, the Kaikōura earthquakes struck.
Kaikōura - for the love of the people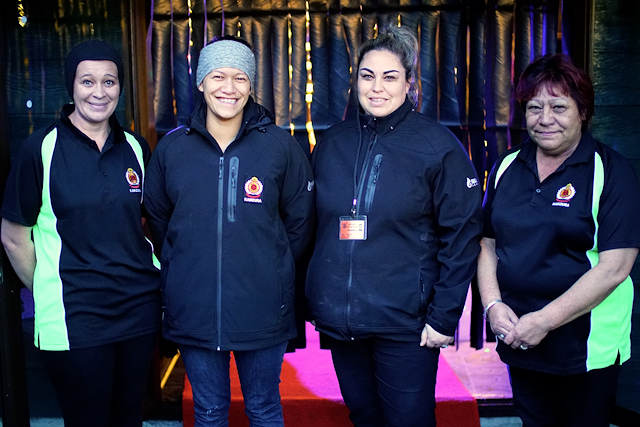 "We were approached by NZ Police to help at the hospital. Then we door knocked to check on the welfare of whānau. It was a fulfilling feeling to be a part of such an amazing group of volunteers," says Jaegan.
Ari agrees, "We wanted to help, but we didn't really know how, because there was so much to do. When we were asked to help at the hospital we did it without hesitation. We also worked in the recovery hub which led to our group running it until it closed in March 2017."
The women agree the post-earthquake period was the time that the Kaikōura Māori Wardens really came in to their own and were recognised by the community, which was very humbling for them.
"We are here for our people. Aroha ki te tangata – for the love of the people."
A proud tradition
Established in the 1860s, the Māori Warden role was created to uphold law and order in Māori communities. Respected local Māori men were the first to take up the posts. Their presence would often dispel any brewing trouble. And so began a proud tradition.

Fast forward 150 years and today's Māori Wardens are still present and respected by communities because of the valuable presence and service they provide. Marshalling crowds at national events, managing traffic at local hui and regularly out and about supporting whānau up and down the country in many ways.
Of the more than 600 warranted Māori Wardens in New Zealand, the majority are located in the North Island. Nearly 70 per cent are female, and of those, about 80 per cent are aged between 45 and 65 years. Only a handful of members are under 25, so the Wardens are always keen to attract 'new recruits'.
Te Puni Kōkiri has been working with the New Zealand Māori Council to support the Māori Wardens as they consider their future planning and aspirations.
A whānau affair
Today the Kaikōura group has 10 members with three more awaiting warranting. Like most Māori Warden groups it was set up by whānau and friends who wanted better things for their community. 
The Kaikōura group includes: Ari's daughter Nakita Boyd; Ari's sisters, Pania and Amelia; Amelia's daughter Jaegan Taylor; and their niece Te Aroha. Ari's first cousin Debra Green is also on board, alongside Jasmine Solomon and the only male member, Hadlee Breen.
Each member has their own reason for joining. For Amelia it was to serve her community. For Nakita, it was to connect with other young people, demonstrate that Wardens vary in age and show how the role has afforded her opportunities to meet amazing people and support those in need.
Debra was a Māori Warden in Southland in 2009, trained by the late Dot Manahi. 
"I have always believed in who Māori Wardens are and what they do. I remember as a teenager seeing my father as a Warden in Blenheim. I'm in my fourth year as a Māori Warden in Kaikōura and I love it," says Deb.
Love for the work, organisation and Māori communities is reflected among all of the Kaikōura Māori Wardens, and those included in the vast network of Māori Wardens throughout the country.