Often a calm reassuring word from a respected person is all it takes to diffuse a situation that has the potential to get out of hand.
Published: Monday, 24 August 2015 | Rāhina, 24 Hereturikōkā, 2015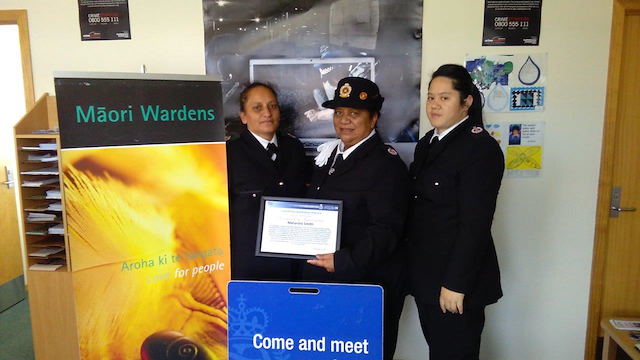 Matarora Smith (Ngāti Wairupe, Ngāti Kuri) understands keeping things cool is an important role that she and her fellow Māori wardens do in their urban environment.
However, as coordinator regional trainer Matarora sees an even bigger role is to shift from resolving problems to preventing them from occurring.
The Māori Wardens' spend a lot of time working with schools and whānau, including Wiri Central School.
The Wardens' assist with transporting school students to sports and cultural events, and the schools invite them into the classroom to help with reading, fun days and barbecues.
The Māori Wardens' will even go as far a Parakai to ensure local kids can participate in a children's Ironman event.
The local Māori Warden's office is located beside Wiri Central School and it shares premises with Audrey Williams, manager of the Wiri Business Association.
The Wardens' frequently provide a van and driver for Wiri business people to go on a trip around the area to identify trouble spots.
"We get to know who the businesses are and what the problems are around their premises," says Matarora.
"The driver gets to know who's doing what and when he comes back to the office he briefs us and we'll include the area in a night patrol."
Māori Wardens work alongside New Zealand Police conducting community safety reassurance. They assist in situations where a problem may have been identified, such as boy racers repeatedly returning to a spot.
In areas that are extremely culturally diverse, the shopkeepers and business owners know who the Wardens' are and tell the Wardens when kids are up to mischief and they want something done about the situation.
"It's not often that people don't know who we are and our uniforms identify us as Māori Wardens," says Matarora.
All wardens are volunteers and there are 10 Māori sub-associations in the district that Matarora works with, from Howick to Māngere and Pukekohe in the south.
They all undertake extensive training and hands-on experience before they become warranted.
"It's about breaking the ice and putting people at ease if they are dealing with police – whether they are Māori, Pacific Island, European or Asian."