One of the biggest struggles for Māori Wardens working through lockdown in Christchurch East, was being unable to give whānau what they desperately wanted - the simple power of a hug.
Published: Tuesday, 4 August 2020 | Rātū, 04 Hereturikōkā, 2020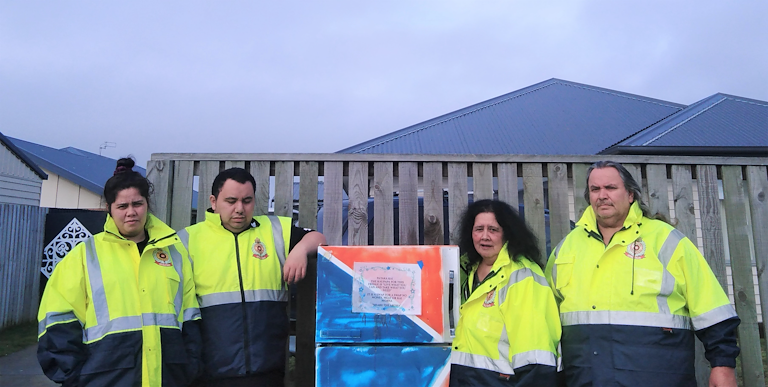 "During the earthquakes, the mosque shootings, we've always been right there with the people. So during lockdown, being separated from them was the hardest. They needed the connection. But that's what we had to do because our health was at risk too".
Ōtautahi Māori Wardens chair Jacqui Te Wani says her branch had to rethink the way they supported whānau and communities at a time they were needed most. Many of those ideas turned out to be highly successful and are still in place today as communities recover from COVID-19.
Jacqui has been a warranted Māori Warden since 2006, her husband Garry since 1992, two of her sons are warranted, another is in training and her daughter Rawinia (24) was classed as the youngest warranted Māori Warden at age 14, after starting as an 11 year old.
A hunger for connection
"I have breathing issues and Rawinia is hapū so we would ring ahead to whānau, go over the rules and arrange to drop off supplies outside. But there's a difference between that and the moment they actually see you", recalls Jacqui.
"You hold up your hand and say 'hey, taihoa, I'm sorry but we can't'. The look in their eyes was that we'd broken their heart. Not only as whānau members but as Māori Wardens".
Changing tact to stay close
The Wardens came up with other ways to keep in touch, at a distance. They would stand at peoples' letter boxes and gates for a kōrero. Garry pulled up a chair outside his front fence and sat with a packet of biscuits, handing them out along with a friendly chat.  
"We were out delivering supplies weekly so we saw the need. We also saw things gradually worsen," says Rawinia.
"In the first week we had all the teddy bears in the windows. That was fun, kids were OK and smiling. But by Easter they weren't. It wasn't fun anymore. They were just looking out the window with a blank stare. They were lonely and needed other people to be with" remembers Jacqui.
The others who were suffering were kaumātua living alone. So Rawinia took action in her neighbourhood.
"We pulled our couches out to the street and sat outside having our dinners together. The kids ran around while we sat across from each other listening to how we were all coping".
Unmissable community pantry
Meanwhile outside Jacqui's whare, a boldly painted fridge appeared, loaded with free kai.
"My autistic son who's 22 chose the colour scheme. Purple and orange is not a combo you're going to miss!"
The idea behind the community pantry was to 'Give what you can and take what you need'. There were many local families who were on low-incomes or had lost their jobs nearby, so the need was great. The pantry is still in operation today, and the community has taken ownership by stocking it themselves including a local community trust who texts the Wardens three times a week to pick up kai.
"There are a few community pantries around Christchurch now," says Rawinia, "about five get emptied immediately. Sometimes just two hours after we've filled it. We're working to keep them full but we can only put in what we can get".
Feeding the souls
City Harvest Food Rescue works with supermarkets, restaurants, caterers and others to rescue un-sellable but perfectly good food. They have partnered with the Ōtautahi Māori Wardens on another kaupapa that ran before, during and after COVID called Free Feeds.
Every weekend the Wardens go to a different suburb in Christchurch East. Rawinia advertises on Facebook and puts pānui around the local shops to let people know when and where the Free Feeds are happening and asks people to bring containers to take home left-overs.
"I don't want kids going home during the winter, cold and hungry. I want to make sure that by the time they leave me they've got a popped belly and are satisfied" says Rawinia.
In Hampshire St, Aranui we were so over whelmed by the turn out that people were lining up outside the door.  The Otautahi Maori Wardens are well known on the eastern side, set up long tables and started serving up kai.  
"We had boxes of fruit, veges, non-perishables, cakes, bread, doughnuts. People had a feed, a mean kōrero and after that they take something home with them.
"That's how we knew who needed food in lockdown. We'd already met the families. We went from Free Feeds to free parcels, to those same whānau. We can't supply to everyone. The numbers are growing, but our supplies are not".
Rūnanga contact point
The Ōtautahi Māori Wardens are the contact point for many Māori living away from home. When whānau from Kāti Kurī of Kaikōura fled to shelter in Christchurch during the 2016 earthquakes, the Wardens took them under their wing. The 'Kaikōura refugees' are now a key community.
Kaikōura rūnanga partnered with Ōtautahi Māori Wardens during level 3 lockdown to check in on their people and support them however possible. A similar relationship was built with Te Taumutu rūnanga, in Selwyn District and Banks Peninsula.  Whānau Ora Commissioning Agency Te Pūtahitanga o Te Waipounamu supplied Manaaki 20 boxes and the list of whānau they were delivered to is now a critical database to identify who needs ongoing support to rebuild and recover. 
Recruitment for the future
"The hardest thing we have is that people have it in their head that you just wear a pretty uniform, go out for an hour, get paid for it and go home. But when reality strikes and they find out 'no, you will be starting at 6am to drive over to Okains Bay…' suddenly it's not ok with them".
The commitment to people, aroha ki te tāngata is the main requirement for anyone to join the Wardens. Until then, the Ōtautahi Māori Wardens say they'll keep doing what they're doing.
"Striving to do the best that we can and if we can't do that then we'll just put on those hats, dust off our gears and walk the walk that we've been walking so far - first thing in the morning and deep into the night".