21 Māori wardens from across Aotearoa gathered on the first weekend of August at the Fire and Emergency NZ National Training Centre in Rotorua for the Coordinated Incident Management System (CIMS4) training. CIMS is a framework for managing incidents of any scale across multiple agencies and organisations.
Published: Monday, 10 August 2020 | Rāhina, 10 Hereturikōkā, 2020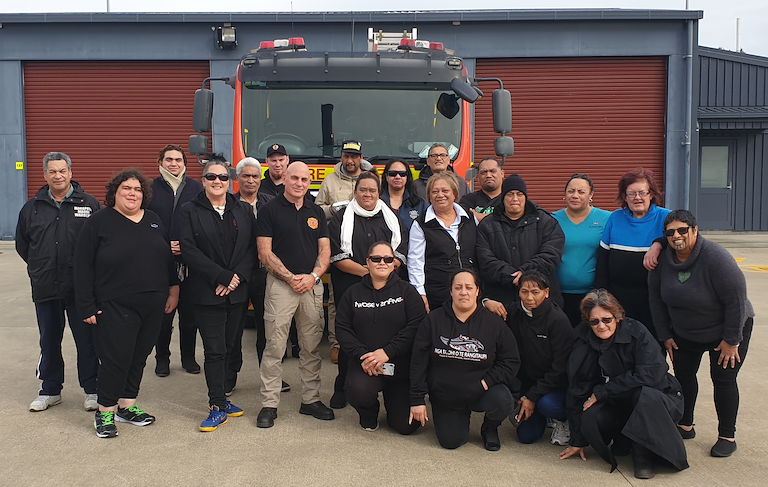 Wardens from Te Tai Tokerau, Tāmaki Makaurau, Waikato, Tākitimu, Raukawa, Pōneke and Te Tau Ihu learnt about the CIMS functions and structures and worked in teams to put the theory into practical scenarios. The scenarios were based on real life emergency situations and each team member was given a specific role. The challenge was for teams to coordinate the necessary resources and support needed to manage the incident.

The weekend was also an opportunity for wardens to network with each other as this is one of the few times when they all come together in one place under a single kaupapa. Stories were shared, laughter was had, and new friendships were formed, all under the banner of "aroha ki te tangata'.

The training venue itself is impressive as a replica of a town has been built where trainee firefighters are put through a range of team building and physically challenging exercises. Wardens were fortunate enough to witness trainees being put through their paces during the weekend.

It is hoped, with the new knowledge and skills gained, our wardens now have a better understanding of the CIMS framework and how to implement it into any local scenarios should the need arise.

Kia kaha ngā wātene Māori!