Wharekāhika is a small coastal township between Potaka and Te Araroa along State Highway 35 on the East Coast. Like many other rural communities around Aotearoa during lockdown, the Wharekāhika community were determined to protect their whānau, especially the vulnerable like kaumātua and pēpi, from the coronavirus by setting up checkpoints to stop the spread of the virus into their township.
Published: Wednesday, 8 July 2020 | Rāapa, 08 Hōngongoi, 2020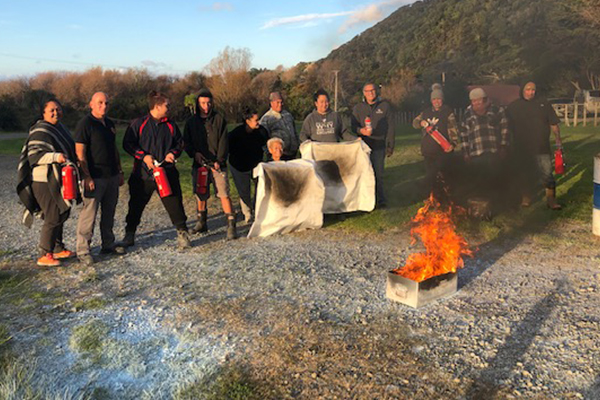 As part of setting up the checkpoints the rōpū thought it would be a good idea to become Māori Wardens. So, an urgent request was sent to Marama Apelu, the Chair of the Tairawhiti Regional Māori Wardens Association, to ask about how to become Māori Wardens.
Robust discussions were had between Minister Mahuta, representatives from Wharekāhika and the Māori Wardens Association about if and how it might be possible for rōpū members to become Māori Wardens during lockdown. The Association decided that it was possible for the rōpū to become Māori Wardens following a condensed training, which was implemented quickly so that the Wharekāhika whānau would be able to utilise their new skills on the checkpoints.    
Providing training under Alert Level 3
Basic Warden training was recommended in First Aid, Traffic Management and Coordinated Incident Management.
Online hui were quickly arranged with the Trainers and Regional Coordinators and steps put in place at the trainings (such as social distancing and plenty of hand sanitisers) to ensure all participants would remain safe from coronavirus.
The Coordinated Incident Management (CIMs 2) course exposed trainees to modules and training exercises that gave participants confidence in how to handle any similar incidents or disasters on their marae or in their community. An example of this was the fire extinguishing practical exercise which seemed to be a favourite amongst trainees.
Given the Coast's isolation surrounded by remote bush and 4 hours north from Gisborne, First Aid training was another important facet of training that they received.  The participants also spoke about how most locals live off the land and sea and there had been several health and safety incidents that had taken place that had put lives at risk. Participants say they now feel confident to attend as first responders unitl other services arrive.
Overall, 15 participants from the Wharekāhika community attended the trainings.
"Being able to do the training together as a whanau was very empowering, equipping us with the necessary skills to protect our community in the future, informed, qualified and able to work together from a position of knowing and understanding. This training will also enable some of our whanau to improve their employment opportunities too which is fantastic," says one of the participants.  
Another participant says "this training has helped us to identify who has particular skills in different areas; who will be able to take leadership roles in different situations; and we now have a whole team who will be able to assist with planning for any event/occasion to ensure the safety of our hapu/community." 
Rob Whaitiri, Regional Coordinator for Gisborne, Hawkes Bay says "although COVID compelled us to act quickly, we were able to be flexible and still effective with our processes and training. And, to be able to provide it in time for the Wharekāhika whānau to be able to use their newly acquired skills at the checkpoints. Importantly too, the trainees really enjoyed themselves."
"I believe this hāpori will be better prepared for any future incidents that may impact on this small coastal township and I will be looking forward to establishing a solid relationship between the Tairawhiti Regional Māori Wardens Association, the roopu from Te Wharekahika and the Māori Wardens Project, concludes Rob.