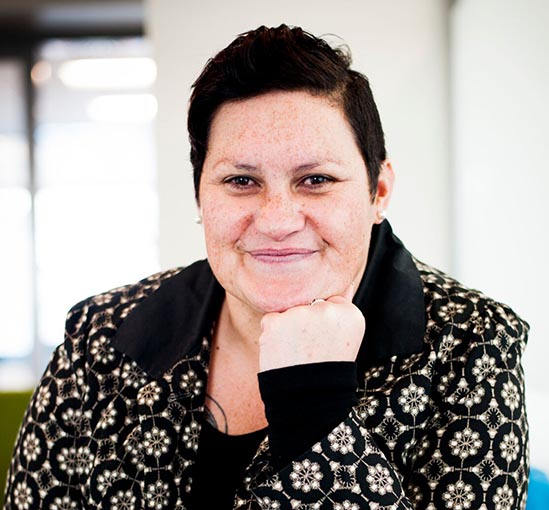 There is a grace and quiet strength to Nancy Tuaine that is both comforting and a little intimidating.
She's one of those natural leaders possessing that rare skill set of being very approachable and genuinely interested in people, while at the same time giving a strong sense that if required it, she could be a formidable force.   
 
Nancy's journey is much like the Whānau Ora movement that she has championed since its earliest days.  It has been a transformative one, making her ideally suited to her new role at Te Puni Kōkiri as Chief Advisor where she will be primarily charged with promoting Whānau Ora across government agencies. 
 
Nancy is a child of the awa.  With iwi affiliations to Te Atihaunui a Pāpārangi and Ngāti Rangi, Nancy was initially raised in Taihape, but moved back to Whanganui at the age of 16 when her father became a casualty of railway closures.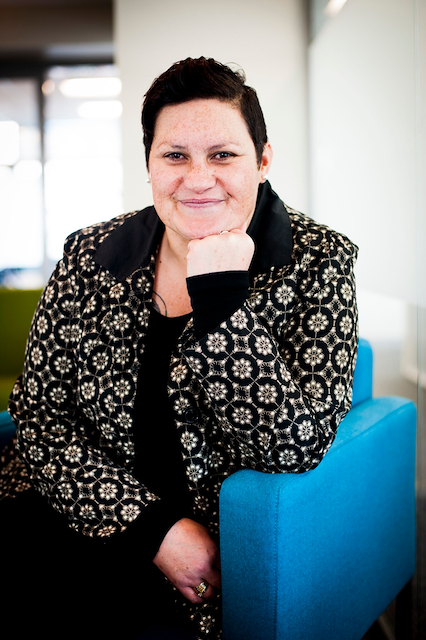 Her father was a huge influence in her life and someone she credits with providing a strong grounding on the importance of whānau, understanding your connections and maintaining them.   
 
"Whanganui is not that far from Wellington.  But a trip here would take ages with my Dad.  Because we would visit every single one of our whānau that lived between here and there, often staying the night too.  He always stressed the need to maintain ties with all our whānau, and he always took me back to my marae at Raetihi as well." 
 
She became a trustee of that marae, an appointment that her father approved of, if for no other reason than it demonstrated that his teachings had found fertile ground.  He passed not long after. She readily admits these early experiences with her father shaped her present day understanding of what whānau ora is all about. 
 
Even so, schooling didn't hold her for that long either.  She dropped out as soon as she could, but would soon find herself in the nurturing hands of yet another humble but capable leader. 
 
"I ended up doing a Māori Access module at the marae.  I met Aunty Tari there.  She was the regional coordinator and I went on to become her secretary." 
 
Career wise she hasn't looked back.  A role at Te Puni Kōkiri in its earlier days followed work at the Iwi Transition Agency and her short time as a Māori and Pacific Island recruit in Māori Affairs.  She was then asked by Dame Tariana Turia to join her and help set up the infrastructure of Te Oranganui Iwi Health Authority in 1993.  She knew then that she wanted to be CE there, but a stint as Transitional Manager at the Whanganui Trust Board would occupy her for some nine years before returning to lead the organisation whose role and purpose deeply resonates with her. 
 
"I was part of the Whānau Ora Taskforce with Rob Cooper and Mason Durie.  A role in the Iwi Technicians Group supporting the Whānau Ora Iwi Leadership Group followed.  So I've been part of the Whānau Ora governance journey.  But I also wanted make sure that I gave Whānau Ora a go on the ground.  So I took the opportunity to return to Te Oranganui as the CE. I wanted to make sure that we did our best to adopt a whānau-centered way of working." 
 
Aspects of Nancy's more formidable side come to the fore when she discusses this part of her career.   
 
She recounts a story about a kuia she knew who was the sole carer for three of her young mokopuna.  A diabetes sufferer, she had developed cataracts in one of her eyes, was on a waiting list for surgery, but had been on it for so long that her other eye began to deteriorate.  The resultant visual impairment was preventing her from providing basic care and necessities to her mokopuna – things like taking them to school, cooking, cleaning and even maintaining her own health were all compromised with her failing eyesight. 
 
"We made a phone call and she was seen within a day and surgery scheduled.  But they only fixed the one eye!  They said she needed to go on another waiting list to get the other one fixed." 
 
Her exasperation at this is covered by a smile. 
 
"A whānau centered approach would have at least obliged the hospital to consider the kuia's wider situation and explore other options that do not require further delays and deterioration to her health." 
 
The kuia, to her eternal credit, and probably just grateful that her life could resume some normalcy after that first surgery just said to Nancy, "its alright bub, I can see now." 
 
Nancy has countless other Whānau Ora tales.  Many are tragic, with whānau seemingly trapped in endless cycles of dysfunction, pain and suffering.  
 
"Yes, crisis, is part of the journey.  And we often engage with whānau at vulnerable moments in their lives.  But Whānau Ora is about transforming past the crisis.  Moving out of that and confronting the negative patterns that keep you locked in that life.  Asking yourself the hard questions - do I need to change?  Do I need to leave my partner?  Do I need help?  This is how you transform.  Anything other than this is just transacting more crisis."       
 
This key insight about the transformative power of Whānau Ora combined with all the on the ground intelligence she has gained as CE at Te Oranganui over the last four years will inform her current role at Te Puni Kōkiri. 
 
"I see my role here as unpicking Whānau Ora, and talking about it in real terms so government agencies can understand what it is.  Are we self-managing?  Do we make our own appointments?  Do we set goals?  Do we understand what we need to achieve those goals?  These are some of the ways I understand Whānau Ora, and how I want to explain it to others.  So this role is a continuation of my Whānau Ora journey from governance to implementation and now to educating others."