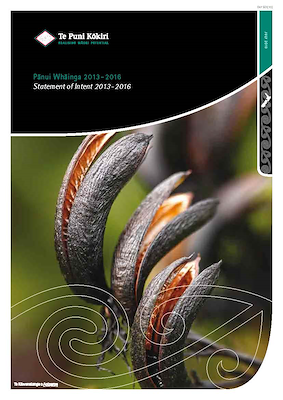 Statement of Intent 2013 - 2016
Table of contents
Towards Outcomes: What we will do
Outcome One: He Ara Whakamua
The Crown, iwi and Māori collectives enjoy relationships that support their shared and respective duties, interests and aspirations.
He Pae Tāwhiti  Indicators

High quality relationships

Crown Māori Relationships are formed appropriately to address matters of mutual significance.
Crown-Māori Relationships demonstrate the principles of mutual respect, good faith and there cognition of each others' contribution.

Partnership and Participation

The Māori authorised voice is effectively provided for in central and local government decision-making processes of significance to Māori rights and interests.
Māorirightsandinterestsare clearly identified and understood,and fairly and transparently balanced against other interests.
Māori are participating more in local and central government electoral processes.
 
 
He Whakamārama Rationale

The Treaty of Waitangi is an integral feature of our nation's constitutional arrangements. Accordingly, an environment in which the Treaty partnership is recognised, respected and acted upon enables New Zealand as a whole to move together with a shared purpose and a clear commitment to an optimistic future. imistic future.

Full Māori engagement in the systems of local and central government, including electoral, governance and government policy and decision-making processes, is fundamental to giving effect to the Treaty's partnership promise.

Strong and effective Crown-Māori partnerships and relationships better enable iwi and Māori communities to realise their potential, for themselves and for the nation.

It is important then that the Government maintains momentum with its iwi and hapū partners so that the partners can build positively on their restored relationships.
He Pae Tata
Desired Impacts

We have promoted processes to achieve more frequent and more meaningful consideration of iwi and Māori perspectives in policy development and decision-making across local and central government.




Our support for the Government's long term review of  New Zealand's constitutional arrangements provides for Māori to shape the development of forward looking and inclusive models of national governance and democratic participation.
Our advice on Treaty claim negotiation mandates and settlement ratifications supports the progress and durability of Treaty settlements.
Our co-ordination of Whole of Government Settlement Accords' implementation supports the positive development of Crown-iwi post settlement relationships.
Whaia kiaTata
Achieving the Desired Impacts

significant risks to Crown-Māori relationships, and how these can be mitigated;
Māori interest in New Zealand's constitutional arrangements and the Government's long-term review;
known Māori rights and interests, and how these intersect with government policy proposals;
good models of practice to improve sector and local government collaboration with iwi and Māori collectives;
iwi and Māori representation and mandate; and
co-ordination of Whole of Government settlement accord implementation with iwi and support, as appropriate, for other settlement related commitments by Government.