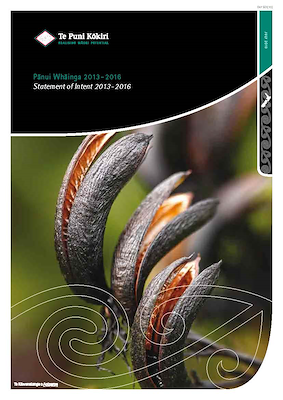 Statement of Intent 2013 - 2016
Table of contents
Long-Term Outcomes and Strategic Direction
Our revised statements of Role, Function and Approach signal our work with our Ministers to achieve a strong and focused organisation which leads the Māori Affairs sector, and Government's implementation of Whānau Ora; and shares in achieving the performance and results the Government expects from all parts of the state sector in the interests of Māori and non-Māori.
The focus of our performance, therefore, is on achieving meaningful and demonstrable gains against three long-term outcomes:m outcomes:
He Ara Whakamua
The Crown, iwi and Māori collectives enjoy relationships that support their shared and respective duties, interests and aspirations.

Whāinga ki Mua
Māori are more secure, confident, and expert in their own language and culture.

Ōranga ā Mua
Whānau Māori are pursuing and realising an improved quality of life and citizenship for their members.
These long-term outcomes are reflective of the ongoing and evolving Treaty of Waitangi-based relationships between the Crown and Māori; the importance of Māori language and culture to Māori well-being and to New Zealand's identity as a nation; and to creating an environment within which our most vulnerable families and communities can realise improved and sustainable results and outcomes.
Our more immediate work for our Ministers, and with the state sector and Māori communities, aligns strongly with those long-term outcomes.
We intend our leadership and influencing role within the state sector to support quality partnerships and relationships between the Crown and iwi and Māori collectives; and to help the Crown partner to identify and mitigate risks which may arise to its relationships with Māori.
We intend for our lead work on Māori land, language and culture to assist more Māori to reconnect with, enjoy, and drive the further development of their physical and mātauranga cultural estates.
And we intend for our lead agency work on Whānau Ora to impact in ways which achieve connected, culturally assured whānau realising their own positive aspirations.
These descriptions of our strategic direction and focus are subject to final decisions from our Ministers but arise from two independent reviews undertaken over the last year as part of the
National-led Government and Māori Party Relationship Accord and Confidence and Supply Agreement. In the meantime, our Statement of Intent provides for the delivery of a well focused and meaningful programme of work in support of our Ministers' priorities, and sets clear accountabilities against which to measure our performance over the next 12 months.