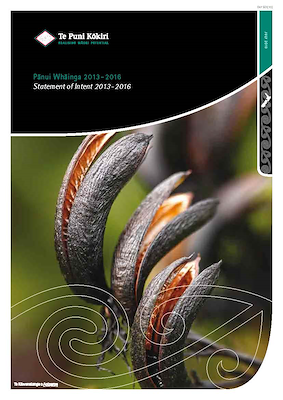 Statement of Intent 2013 - 2016
Table of contents
Chief Executive's Introduction
Michelle Hippolite
Tēnei te tuku mihi maioha ki a koutou katoa, te hunga ka whai wāhi ki te Pānui Whāinga a Te Puni Kōkiri – tōku tuatahi.
It is my privilege to lead Te Puni Kōkiri - the principal advisor within Government on Crown-Māori relationships.
I take up the responsibility as Chief Executive of this waka at a crucial time for our organisation. Reviews of both Te Puni Kōkiri and Whānau Ora were already well underway and final decisions regarding both are expected soon. In working with my Ministers it is clear to me that our core purpose as a trusted advisor to them, their colleagues and other agencies is to generate good ideas and understandings to improve the lives of Māori people.
During my first few months I have concentrated on getting to know, or sometimes reacquainting myself with, the Te Puni Kōkiri whānau in Wellington and around the motu as well as the many Māori stakeholders; organisations, iwi, hapū and whānau actively interested and engaged in our mahi. It has been very pleasing to discover the deep and keen interest that Te Ao Māori still has in 'Te Tari Māori' and our future direction.
This Statement of Intent signals our new arrangements so far and, over the next 12 months, I will lead further engagements with my Ministers and my team to implement and further refine our strategic direction and approach.
Beyond that my key concern is to ensure that Te Puni Kōkiri is supporting the Whole of Government priorities to ensure a competitive and productive economy, better public services, the ōtautahi rebuild, and responsible financial management.
To do this alongside the Government's priorities for Māori Affairs and Whānau Ora, we will focus on three long term and complementary outcomes: He Ara Whakamua, which focuses on Māori rights and interests as tangata whenua as partners to the Treaty of Waitangi; Whāinga ki Mua, which focuses on Māori as a culturally distinct group; and Ōranga ā Mua, which focuses Māori aims and aspirations as citizens and whānau.
This is an exciting time for us. As we refine our strategy we will continue to share our progress. The upcoming Matariki will herald a period of renewal for our organisation as we begin to reflect the literal meaning of our name, Te Puni Kōkiri – a group moving forward together.
Noho ora mai ki a koutou rohe kāinga ki raro i ngā manaakitanga a Te Kaihanga.