Last updated: Friday, 8 June 2018 | Rāmere, 08 Pipiri, 2018
What's on this page?
Many iwi choose to operate as a Māori trust board under the Māori Trust Board Act 1955. Examples include the Aorangi Māori Trust Board, Arawa Māori Trust Board, Aupouri Māori Trust Board, Ngati Whatua o Orakei Māori Trust Board, Tai Tokerau Māori Trust Board, Taranaki Māori Trust Board, Tuhoe-Waikaremoana Māori Trust Board, Tuwharetoa Māori Trust Board, Wairoa-Waikaremoana Māori Trust Board and Whakatohea Māori Trust Board.
Runanga established as trust boards pursuant to their own legislation are Te Runanga o Ngati Porou, Te Runanga o Ngati Awa and Te Runanga o Ngati Whatua.
The main advantages of a Māori Trust Board are:
Body corporate status provides for perpetual succession and limited liability
Reasonably clear powers and objectives under the Māori Trust Board Act
Specific reporting and accountability rules
Beneficiaries elect members of the board
The main disadvantages of a Māori Trust Board are:
Reporting and accountability rules to the Crown seen by some as cumbersome and paternalistic
Cannot pay out sums in excess of $400 for any purpose not specifically authorised
Limited flexibility
The election of members to the board by beneficiaries may not be suited for Trust Boards wishing to undertake commercial operations
Suitability of a Māori Trust Board structure
Māori trust boards are not ideally suited to commercial operations. They may be more suited to hapu and iwi whose main objectives are political, social and cultural or for holding assets that are unlikely to be sold.
What Māori Trust Boards do
The main function of each board is to administer the board's assets for the general benefit of the beneficiaries.
Māori trust boards also have discretion to apply money for the benefit or advancement of the beneficiaries.
Māori trust boards are permitted to spend money on the promotion of health, education, vocational training, and the social and economic welfare of the beneficiaries.
Some Māori Trust Boards are large, administer significant assets and employ a number of staff.
An effective board will contain a balance of experience and skills, follow the philosophy of collective responsibility and communicate appropriately with stakeholders.
A board should:
Review and consult with stakeholders regarding its functions including annually reviewing the board's performance against those functions
Set the mission, vision and values
Agree to the strategic plan, operating plan and budget
Ensure adequate resources to achieve agreed objectives
Monitor performance and manage risks
Ensure compliance with relevant laws and obligations
Provide full disclosure on the organisation's affairs
Mentor, monitor and evaluate the Manager or Chief Executive Officer
Communicate with stakeholders
The board must give clear direction to management and help create and support a climate where people within the organisation and outside can see and support the direction.
It is important to note that any beneficiary may at all reasonable times inspect the books of the board and take copies of or extracts from them free of charge.
Learn more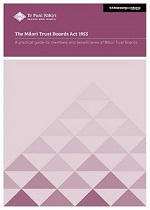 The Māori Trust Boards Act 1955
This guide focuses on the operation of the Māori Trust Boards Act 1955. It is intended to assist members of Māori Trust Boards with their responsibilities and roles, and inform beneficiaries about the workings of the Act and the role of their elected representative.