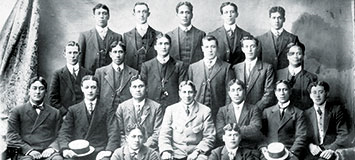 Ever since rugby began in New Zealand, Māori have featured strongly. Joseph Warbrick formed the legendary 1888 Natives, a side that toured over a 14-month period throughout the British Isles, nowadays regarded as the longest sports tour ever. Two early books on how the game should be played – The Art of Rugby Football and The Complete Rugby Footballer – were penned by Māori players Tom Ellison and Billy Stead (along with Dave Gallaher). Ellison gave the All Blacks their now famous black jersey with the silver fern. In 1910, Ned Parata finally had his wish granted with the New Zealand Rugby Union (NZRU) sanctioning a Māori team to assemble to sail to Australia.
Timeline
1860s - Māori are seen playing rugby with the Armed Constabulary at Waihi Redoubt, Taranaki.
1872 - Wirihana is the first recorded Māori to play rugby at Aramoho, Whanganui.
1884 - The very first national rugby team departs for NSW. Amongst the team are Māori players Jack Taiaroa from Otago and Joe Warbrick from Matata.
1888 - Led by Joe Warbrick, the 1888 Natives play 107 games in New Zealand, Australia, Egypt and the British Isles. They introduce an open style of game to the British.
1892 - The NZRU is formed and Tom Ellison proposes a uniform consisting of a black jersey with a silver fern, white knickerbockers and black stockings. Ellison also wrote The Art of Rugby Football and invented the 2-3-2 scrum.
1893 - The first team to play under the NZRU travels to Australia. Led by Ellison, the team also contains fellow Natives tourists Davy Gage and Tabby Wynyard, as well as Hoeroa Tiopera from Omahu.
1904 - A Rotorua First XV defeats the touring British team. Te Aute becomes the first school in NZ to tour overseas when they visit Australia.
1905 - Māori players Billy Stead and Billy Cunningham form part of the 1905 Original All Blacks. Vice Captain Stead co-authored The Complete Rugby Footballer, a tome on how the game should be played.
1908 - A Te Arawa XV loses against the Anglo-Welsh visitors in Rotorua. Former Māori All Black, Opai Asher, captains a squad of men who would play rugby league in Australia, providing the impetus for the NZRU to establish a Māori team.
1910 - Ned Parata's request to the NZRU for a team consisting solely of Māori is accepted. New Zealand Māori play their first game against the Rotorua Sub-union on 21 May. They went on to tour Australia, exhibiting the way Parata thought rugby should be played "… a good, fast, open game".
1911 - Ned Parata is appointed the founding Chairman of the Bay of Plenty Rugby Union. The Union would go on to provide the most players to the New Zealand Māori Team. A Te Arawa Troupe plays a few games of rugby in England.
1913 - Tour of Australia. The New Zealand Māori Team gains its international scalp by beating Australia, albeit in a fundraiser.
1918–19 - The Māori Pioneer Battalion Team tours England, Wales, France and New Zealand. It reinvigorates the game at home by playing the provincial unions.
1921 - New Zealand Māori play their first game in six years after the First World War, losing controversially by one point to the first Springbok team to tour NZ. Billy Stead is appointed as Coach of the All Blacks.
1922 Tour of Australia. New Zealand Māori register a test series win against NSW, yet they lose their game against the All Blacks. The Māori Advisory Board of the NZRU is formed by Ned Parata.
1923 - Tour of Australia. The first internal Māori regional competition is organised and the teams play for the Te Mori Rosebowl.
1924–25 - The legendary Invincible All Blacks play undefeated in 30 matches. Amongst the squad was fullback George Nepia who played in all matches. He, Lui Paewai and Jimmy Mill became household names overnight.
1926–27 - Tour of NZ, Australia, Ceylon, France, Great Britain and Canada. They play 40, winning three-quarters of their games. After beating the French, France adopted the Māori style of game as their own. The squad was captained by Wattie Barclay who would become the leading try-scorer for New Zealand Māori with 40. He is closely followed by fellow tourist Albert Falwasser, with 38.
1927 - The Prince of Wales presents a cup bearing his name in Dunedin. The Prince of Wales Cup is played for by regional Māori teams for the next 66 years.
1928 - The All Blacks leave for their first tour of South Africa without Māori players due to Apartheid.
1930 - New Zealand Māori play Great Britain for the first time in Wellington.
1931 - Led by Southland stalwart Wampy Bell, New Zealand Māori lose against Australia at Palmerston North.
1934 - Jack Ruru tragically dies while captain of Te Tai Hauauru. The following year his mother gifts a memorial cup to be played for in conjunction with the Prince of Wales Cup and the Te Mori Rosebowl.
1935 - Tour of Australia, an excursion that registers record gate takings and draws the Australian public back to the game of rugby union. They defeated NSW, 2-1. Captain George Nepia, Charlie Smith and Jack Hemi were amongst those who swapped codes to play rugby league.
1938 - The first New Zealand Māori Tour of Fiji. They drew the series.
1943 - The Māori Battalion Team wins the Freyberg Cup, a competition played between New Zealand Divisions. The team defeats the Springboks, 13-9, in the Egyptian Desert.
1945 - The Khaki All Blacks, who played 38 games for 32 wins, tour Britain, Ireland, France, Germany and New Zealand. They contain New Zealand Māori players Kiwi Blake, Ike Proctor and J.B. Smith.
1946 - New Zealand Māori play for the first time since the outbreak of World War II, against Australia at Palmerston North. New Zealand Māori win 20-0.
1948 - Tour of Fiji. They win the test series, 2-1.
1949 - Tour of Australia, drawing the test series with one a piece. Following the tour, one spectator was so enamoured with the efforts of coach Tom French, he presented a cup in his honour. The cup is still presented to the best Māori player each year. The All Blacks leave for South Africa, again without Māori present.
1950 - Loss to British Isles, 9-14, at Athletic Park, Wellington.
1952 - Sir Ralph Love becomes the first appointed Māori representative on the NZRU Board, a position he held for 21 years.
1954 - Tour of Fiji. They win seven of their eight games.
1956 - A heavy loss at the hands of South Africa, 37-0. Māori players Pat Walsh, Tiny Hill and Bill Gray feature for the All Blacks in the first-ever test series win against South Africa.
1958 - Tour of Australia, drawing again with one test victory each. This would be the last full tour undertaken by New Zealand Māori to Australia.
1959 - Play British Isles at Eden Park, losing 12-6.
1960 - Tour of Tonga and Western Samoa, winning seven and loosing the test against Tonga. The All Blacks fly to South Africa for the last time without Māori. The 'No Māori, No Tour' was the first large-scale protest movement against the NZRU having sporting contact with South Africa.
1961 - They defeat France at McLean Park, Napier, by two points.
1964 - Tour of Fiji with New Zealand Māori winning all eight matches, including the test against Fiji. They posted 210 points for, with 54 against.
1965 - Lose against the touring Springboks at Athletic Park, 9-3.
1966 - Play Campbell-Lamerton's Lions, losing by two points at Eden Park.
1967 - The NZRU celebrates its 75th Jubilee without New Zealand Māori facing an opponent. The proposed tour to South Africa was rejected by both the NZRU and the NZ Government due to Māori not being allowed to join. Sid Going is named as the Tom French Cup champion for the first of six consecutive wins.
1969 - Play Tonga in two home tests, losing both.
1970 - Draw the home series against Fiji. The 1970 All Black Tour departs for South Africa with four 'Honorary Whites' Sid Going, Buff Milner, Blair Furlong and Bryan Williams.
1971 - Lose to the British Isles, 23-12, at Eden Park. Waka Nathan is appointed coach and the team experiences a resurgence, better results, and more players in All Black squads during his tenure.
1973 -Tour of Western Samoa, Tonga and Fiji. They won four tests against Western Samoa and Fiji. Also play against the All Blacks, losing by 10 points. Prime Minister Norman Kirk postpones a scheduled internal tour by the Springboks.
1974 - Win both tests against Fiji.
1975 - Win both tests against Tonga.
1976 - Win both tests against Western Samoa.
1977 - A proposed tour of South Africa by New Zealand Māori is cancelled. New Zealand Māori play the Lions at Eden Park, losing by three points. Tane Norton is announced as the All Black Captain, becoming the oldest player to be so named.
1978 - The 50th anniversary of the Prince of Wales Cup is celebrated.
1979 - New Zealand Māori embark on a tour of Australia, Fiji, Tonga and Western Samoa. They played undefeated, winning six and drawing one.
1980 - Defeated Fiji in one home test at Rotorua.
1981 - Controversially draw against the Springboks at McLean Park, Napier. The 1981 Springbok Tour resulted in widespread protest, with some Māori players faking injuries as they did not want to play against the tourists.
1982 - Tour of Wales and Spain.
1983 - Win both tests against Tonga.
1987 - The All Blacks win the inaugural Rugby World Cup that featured Māori players including Wayne 'Buck' Shelford, Zinzan Brooke, Frano Botica, Steve McDowell and Mark Brooke-Cowden.
1988 - New Zealand Māori tour France, Italy, Spain and Argentina, winning nine of 11 matches. In the game against Rosario, Brett Iti set a new New Zealand Māori record for the number of tries scored in a match – six.
1990 - Wayne Shelford is dropped as All Black Captain, prompting the 'Bring Back Buck' campaign. Shelford captained the All Blacks to 14 test wins.
1992 - New Zealand Māori tour the Cook Islands, Western Samoa, Tonga and Fiji. The NZRU celebrates its centenary with New Zealand Māori playing a Bay of Plenty side.
1993 - Lose against the British Isles by four points at Wellington.
1994 - Play in the M-Net Series, South Africa, New Zealand Māori losing in the semi-final against Eastern Transvaal. They defeat Fiji at home in a solitary test.
1995 - Vietnam veteran Matt Te Pou is appointed as the coach. The Māori teams of Northern, Central and Southern play for the inaugural George Nepia Trophy. The competition lasted for two years.
1996 - New Zealand Māori beat Western Samoa at Mt Smart Stadium. Tour of Fiji and Tonga, winning all three games, including two tests against Fiji and Tonga.
1997 - Win against Ireland A, Argentina and Western Samoa. Two Māori sides titled Ikaroa and Mangaroa play as the New Zealand Māori Trial match.
1998 - Defeat Tonga by 59 points, England by 48 points and Scotland by 16 points. New Zealand Māori win their other two games on their short tour of Scotland. A New Zealand Māori Colts side is first assembled, last taking the field in 2001. Both Eric Rush and Dallas Seymour form part of the NZ Sevens Team that wins gold at the Kuala Lumpur Commonwealth Games, Rush repeating the feat four years later at Manchester. Taine Randell is appointed All Black Captain.
1999 - New Zealand Māori tour Fiji, winning both games against Fiji. Māori administration of the game changes with the advent of Whakapumautanga Inc., which focusses on providing players with an educative pathway as well as developing rugby skills.
2000 - Win against Scotland at New Plymouth.
2001- Lose to Australia at Sydney but defeat Argentina at Rotorua. At the match, New Zealand Māori perform their new haka, 'Te Timatanga', composed by the team's kaumātua, Whetu Tipiwai.
2002 - Narrowly lose to Australia in Sydney.
2003 - Defeat Tonga at Albany, but lose against England at New Plymouth. Whakapumautanga is scrapped and renamed the New Zealand Māori Rugby Board. New Zealand Māori end their 2003 season by touring Canada, scoring 23 tries in three games.
2004 - New Zealand Māori win the inaugural Churchill Cup by defeating England A during extra time. In the process of winning the Cup, they defeated British Columbia 111-3.
2005 - Defeat Fiji and the British and Irish Lions at Hamilton. This test was the last for Te Pou as coach. His record stands at 33 wins from 38 matches.
2006 - New Zealand Māori return to the Churchill Cup, beating Scotland A with seven tries. Dr Farah Palmer captains the Black Ferns to another World Cup victory, having done so in 1998 and 2002.
2007 - New Zealand Māori are unable to win the Churchill Cup for the third time, losing to the English Saxons.
2008 - The team wins the Pacific Nations Cup by beating Australia A in the final.
2009 - The team is suspended for one season following cost-cutting measures by the NZRU.
2010 - The New Zealand Māori rugby team turns 100 years old. Past-Māori All Black Jamie Joseph is appointed coach. He leads the team to a clean sweep of the Centenary Series against New Zealand Barbarians, Ireland and England. In the same year an apology is issued by the South African Government, the New Zealand Rugby Union and the South African Rugby Union over the exclusion of Māori players from previous All Black tours to South Africa.