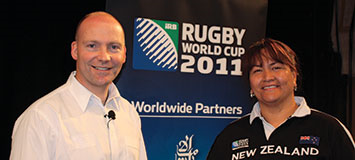 Recruitment is underway to find more than 5000 volunteers to help host the thousands of international and local visitors who will enjoy Rugby World Cup 2011 (RWC 2011) when the Tournament kicks-off in September next year.
Prime Minister John Key launched the RWC 2011 Volunteer Programme at the Petone Rugby Club in Wellington. Tournament Organiser Rugby New Zealand 2011 (RNZ 2011) began a nationwide road-show to recruit volunteers to work in a variety of roles both within stadia and outside in towns and cities across New Zealand.
Te Puni Kōkiri's Ngapera Hoerara is part of the road-show with RNZ 2011's volunteer team. Ngapera says during the month she's on the road, the team would have convened 38 hui in 26 locations around the motu.
Ngapera says that for Māori the volunteer programme is another channel for expressing our unique sense of hospitality and manaakitanga. "Some positions require people who are passionate about their local area and country – that's us and we can share our local knowledge and history in a very intimate way."
"We are already very active 'volunteers'," says Ngapera.
"But that's just us helping our children, mokopuna and whānau whānui on the Marae, at schools, and in sports – whether that's making the cups of tea, washing uniforms or ferrying teams around, it's all done for aroha and to support our whānau".
Michael Jones, one of the New Zealand's greatest Rugby stars – a member of the RWC 1987 winning New Zealand team and former coach of Manu Samoa – is the face of the Volunteer Programme. Michael backs up Ngapera's sentiment.
"As a player I couldn't have achieved what I did without the tireless support of so many unpaid, enthusiastic people who turned up to help me train and play, who maintained the clubrooms, who made the tea and sliced the oranges – they all made a difference".
You must be at least 17 years old to participate in this programme. It is not compulsory to attend a forum. However, you are encouraged to attend as the forums will provide much valuable information about the expectations, requirements, benefits, roles and registration process to inform decisions.
For more information about the programme and a list of the locations, dates and times of the public forums go to www.rugbyworldcup.com/volunteer.