Appendix 2: How Crown Entities and the Māori Trustee contribute to TPK's Outcomes.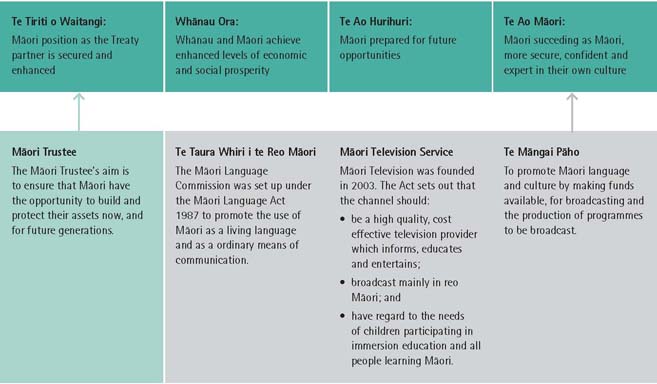 Te Tiriti o Waitangi:
Māori position as the Treaty partner is secured and enhanced
Whānau Ora:
Whānau and Māori achieve enhanced levels of economic and social prosperity
Te Ao Hurihuri:
Māori prepared for future opportunities
Te Ao Māori:
Māori suceeding as Māori, more secure, confident and expert in their own culture
Māori Trustee The Māori Trustee's aim is to ensure that Māori have the opportunity to build and protect their assets now, and for future generations.
Te Taura Whiri i te Reo Māori The Māori Language Commission was set up under the Māori Language Act 1987 to promote the use of Māori as a living language and as a ordinary means of communication.
Māori Television Service Māori Television was founded in 2003. The Act sets out that the channel should:

be a high quality, cost effective television provider which informs, educates and entertains;
broadcast mainly in reo Māori; and
have regard to the needs of children participating in immersion education and all people learning Māori.

Te Māngai Pāho To promote Māori language and culture by making funds available, for broadcasting and the production of programmes to be broadcast.