Reo Māori stories, team waiata and inter-office kapa haka performances helped bring Mahuru Māori to life at Te Puni Kōkiri.
Published: Friday, 13 October 2023 | Rāmere, 13 Whiringa ā-nuku, 2023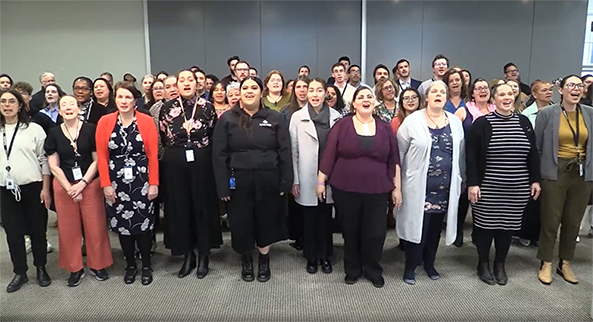 Based on the maramataka, this year's Mahuru Māori covers 15 September to 14 October. Renowned reo Māori advocate, Paraone Gloyne of Ngāti Raukawa, pioneered Mahuru Māori in 2014 as a personal challenge to help normalise te reo Māori across the motu.
Raising the voice of reo Māori is also central to Maihi Karauna, the government's Māori language strategy, with one of its ambitious objectives being to grow a million te reo Māori speakers by 2040
Te Puni Kōkiri Principal Advisor for Māori Capability Aaron Munro said that wero is there for all of us to pick-up.
"Everything we do during Te Wiki o te Reo Māori and Mahuru Māori works toward raising our cultural capability – it's a key strategic priority for us here at Te Puni Kōkiri. Me kite, me rongo, me kōrero te reo Māori."
Each puni was challenged to come up with their own unique way of celebrating reo Māori. While some grew their ability to kōrero through waiata and stories, regional offices helped create the second annual Te Kōnohete Mataiti kapa haka event.
Kaimahi in Te Tai Tokerau, Tāmaki Makaurau, Waikato-Waiariki, Ikaroa Rāwhiti, Te Tai Hauāuru, Te Waipounamu and Te Tari Matua all shared videos of their own kapa haka performances for others to enjoy.
"The high standards of performance are impressive and a testament to our commitment to te reo Māori, and the taonga of kapa haka," Aaron said. "Te Kōnohete Mataiti has also helped fulfil our kapa haka needs in the absence of Te Kōnohete."
Te Kōnohete is an annual Wellington-based event that will bring together public sector agencies to celebrate kapa haka at a large performance in November – the first time since COVID-19 forced its cancellation.
Looking ahead, Te Puni Kōkiri has its own internal reo Māori strategy, Te Ahikāroa o Te Reo Māori. Part of this strategy involves our Māori Capability team supporting other areas to create tailored plans for strengthening reo Māori by Matariki 2024. For example, teams might focus on learning karakia, developing their knowledge of te ao Māori or sitting a Te Taura Whiri i te Reo Māori language level finder exam.
Te Puni Kōkiri is the principal government advisor on Māori kaupapa so we need to ensure all our kaimahi have the tools to fully appreciate the space we're in, Aaron said.
"Nō reira e tika ana te kōrero: Ko toku reo toku ohooho, ko toku reo toku māpihi mauria."
Image caption: In September, Te Puni Kōkiri kaimahi joined more than 1 million others across the motu to take part in Te Wā Tuku Reo Māori – the Māori Language Moment. Kaimahi gathered to sing Maranga Mai Aotearoa, the new public service waiata written by Tapeta Wehi and commissioned by Te Taura Whiri i te Reo Māori.