Hori Mataki, creative lead for Ariki Creative and member of Te Ao Hangarau, is paving the way for rangatahi with an interest for digital technologies. In his words, Te Ao Hangarau is 'setting up the change for rangatahi to build off our shoulders to get into the digi space'.
Published: Friday, 9 February 2018 | Rāmere, 09 Huitanguru, 2018
Te Ao Hangarau is a collective of young Māori working in digital creative spaces, including videography and photography, graphic and web design, animation, communication and software development.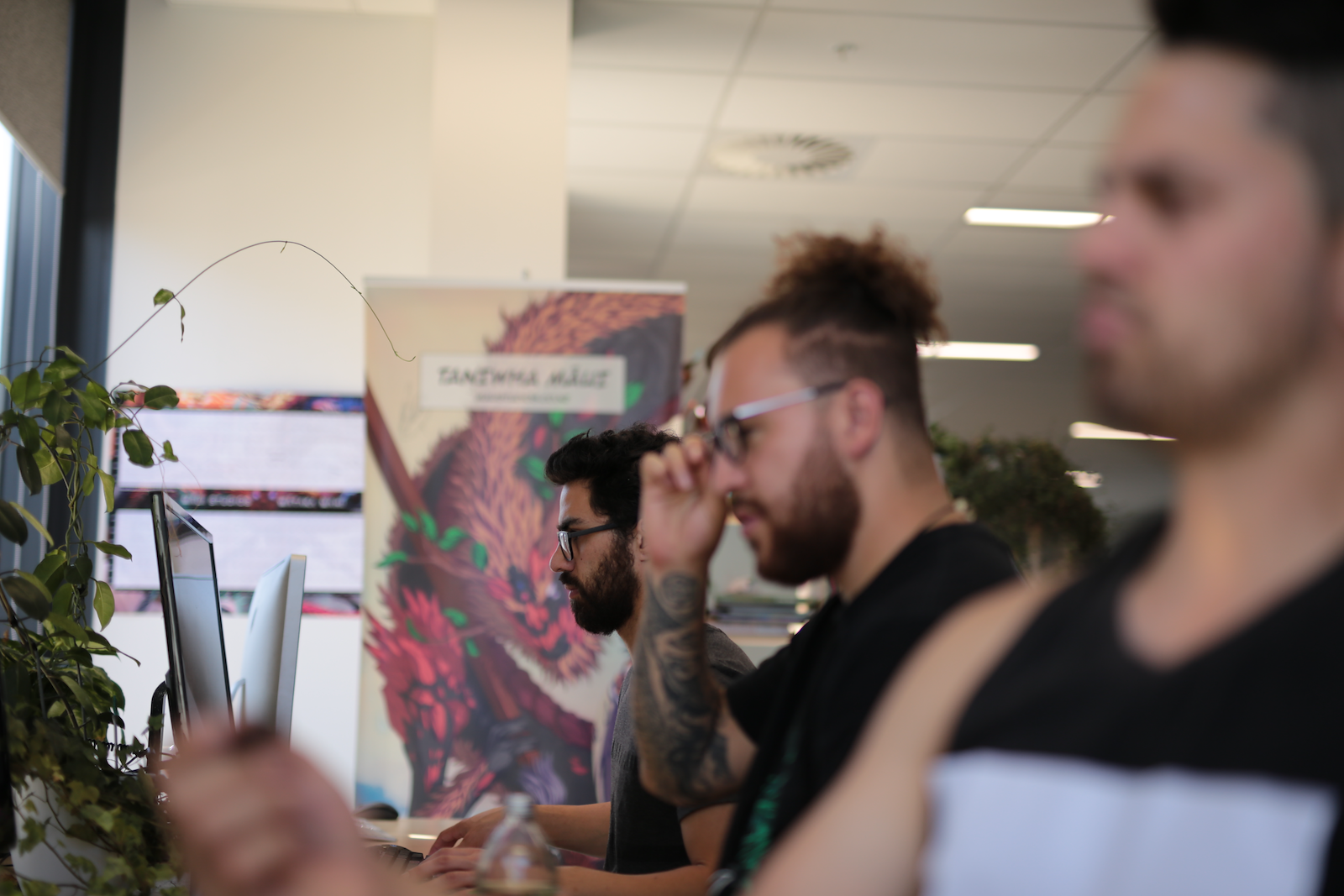 Meaning 'The Modern World', Te Ao Hangarau formerly known as Digital Natives Aotearoa, is comprised of Ariki Creative, Māui Studios and Manu Media, and more recently the lease-holding tenants of 10 Show Place and contractors. Together these kaimahi aim to learn and grow together in their respective specialist areas, while also developing learning opportunities, educational pathways and interest for digital technologies in other young Māori.
Grounded by kaupapa Māori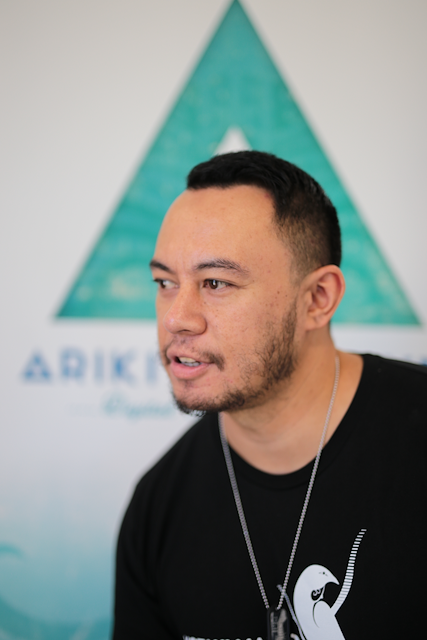 The core values of Te Ao Hangarau are immersed in the realm of kaupapa Māori.
"We believe in sharing our skills with the community, using digital technology to help whānau whānaui and rangatahi, as well as leaving a legacy for other aspiring Māori digital creatives to follow should they wish to pursue a career in the digital creative industry," says Hori.
The overarching vision for Te Ao Hangarau is to host rangatahi at digi-wānanga, funnel those whose interest is ignited into tertiary education pathways, provide internship opportunities for them to grow experience and leverage existing relationships to assist these rangatahi into gainful employment in the digital creative industry.
It all started with Whānau Ora
Hori shares the idea to form a collective of young Māori working in digital creative spaces started with a tono [invitation] from the Whānau Ora commissioning agency, Te Pūtahitanga o Te Waipounamu.
"They wanted us to come up with some ideas on how we could help whānau interested in the digital technology space so a group of about eight of us pulled together," says Hori.
Since its inception in 2015, the collective has grown organically receiving support through Whānau Ora, and more recently, through the Ka Hao Māori Digital Technology Development Fund securing funding support totalling $260,000.
The vision for Te Ao Hangarau to grow Māori literacy, education and employment in creative digital technologies and mixed media is now one-step closer to becoming a reality.
Internship programme
With support through the Ka Hao Fund, Te Ao Hangarau is taking on four tauira [interns], one of these interns being Tom Williams (Waikato/Tainui).
Tom is spending time learning the expertise that Te Ao Hangarau has to offer covering creative mediums such as graphic design, website design, photography, videography and animation.
"I like to learn by doing so the internship is a perfect way to be able to do this and advance quickly. It is so much more enjoyable doing something you love every day," he says.
At the moment the café business owner and Te Ao Hangarau intern is working on briefs for clients such as He Toki, a Māori training programme, Te Ara o Takitimu, a Māori trades training programme, and Ngāi Tahu.
"Today I am designing icons, maps and video for Ngāi Tahu, and yesterday, I was designing an animated video for Te Ara o Takitimu. The variety has been great and I'm picking up different skills each day."
When asked what his next steps will be following the internship Tom is nothing but pragmatic about what lies ahead.
"At the moment I would like to use the next 2 years to build my skills in this area and perhaps in the future run my own business. Design is such a fast moving industry, so it will depend on what skills I gain during this internship with Te Ao Hangarau and what demand is out there for design."
Creating high value jobs in digital technology
Since receiving Ka Hao funding support Te Ao Hangarau have extended their workspace, adding four new desks in expectation of four tauira [interns] to join the team.
In addition, two roles have been established, a Kaiarahangarau (Career-path Manager) and an advocate role focused on formalising the Te Ao Hangarau pathway between tertiary and industry partners. The Kaiarahangarau manages the Te Ao Hangarau interns, aggregates visitor and/or initiative participant data, manages digital wānanga and participant career-path development.
Luke Egan, Kaiarahangarau
Luke brings a unique perspective to the team with his psychology/philosophy background and combines this with his passion for telling local stories about the positive impact of being a part of a Māori collective.
He has enjoyed working with the tauira [interns] to find the best ways for them to get the most out of Te Ao Hangarau. He has jumped at the chance to identify opportunities to collaborate with other initiatives and value wherever possible.
Moving forward
Next on the horizon for Te Ao Hangarau is developing potential partnerships and sponsors, integral to this current focus will be forming a strategy for their kaupapa, vision and initiatives.
Key facts about Te Ao Hangarau
Headquarters: Christchurch.
Staff: 16 staff including four tauira [interns].
Brands: Ariki Creative, Māui Studios, Manu Media, AKM Communications.
Ka Hao Fund: Building Te Ao Hangarau as an incubator of Māori Digital Creative excellence, which offers digital apprenticeships. Received funding support totalling $260,000.
Applications for the Ka Hao Fund are now open
Applications are now open for the Ka Hao Māori Digital Technology Development Fund. 
Applications open on 9 February and close on 9 March 2018. 
Find out more about the Ka Hao Fund and how to apply.