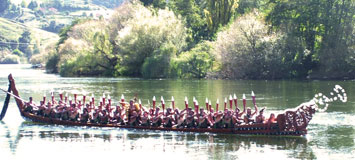 One of many highlights at the 150-year celebrations of the Kīngitanga movement recently was the launch of a new waka commissioned to commemorate the ascension of Kīngi Tuheitia to the throne of the Kīngitanga.
The new waka, Tātahi Ora, was launched at a pre-dawn ceremony on the Waikato River. This was followed by a flotilla of eight waka that paraded down the Waikato River to Ngāruawāhia to salute Kīngi Tuheitia and guests.
Te Puni Kōkiri supported the 150-year celebrations by providing investment in key areas of the celebrations.