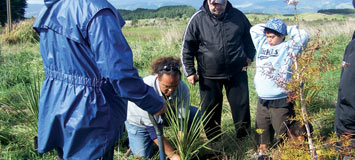 A humble marae is aiming to grow one million native plants as part of their cultural strategy. Tukorehe marae, on state highway one just south of Levin, is on target to meet this goal. It is part of their Te Hākari Wetlands Project, which aims to re-establish traditional wetlands within the boundaries of Ngāti Tukorehe to their former glory as a pātaka kai for Ngāti Tukorehe today and into the future.
"We had planting days with our whānau and tamariki. This project isn't just about the restoration of our wetlands. It is about who we are as Ngāti Tukorehe and where we are headed," says Te Iwi o Ngāti Tukorehe Trust General Manager Fiona Wilson.
"Te Hākari Wetlands Project led to us opening our own nursery, called Tikorangi Ltd. We thought we might as well grow the one million native plants we needed ourselves rather than paying for them from someone else," says Fiona Wilson.
"Te Hākari Wetlands Project meets our environmental needs and also our educational and spiritual needs. Employment opportunities have been created for our people within our nursery business so we are really quite excited," she says.
"It's been because of our relationship with Te Puni Kōkiri that we have aligned all of our goals and aspirations into one strategic plan to achieve more for our whānau and hapū of Ngāti Tukorehe."
Te Puni Kōkiri and Te Iwi o Ngāti Tukorehe Trust have been working together for more than three years to achieve and implement the tribe's aspirations, strategic vision and robust governance. This has included the development of a strategic plan to use resources to their full potential with benefits going directly to Ngāti Tukorehe whānau.
"There will always be a good relationship with Te Puni Kōkiri in one form or another, because we see Te Puni Kōkiri not as a funder, but as an investor," says Te Iwi o Ngāti Tukorehe Trust Economic Development and Assets Manager Fiona Kamariera.
"We wouldn't be where we are today without the continued support and awhi of Te Puni Kōkiri, who help us realise not only our potential but also our dreams and aspirations," she says.