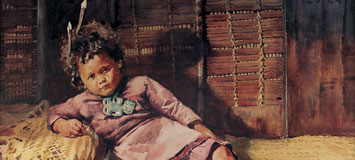 A stroll through the Te Huringa/Turning Points art exhibition is like taking a travelator back through a pictorial history of Aotearoa.
Te Huringa/Turning Points travels to the South Island after being on the road for the last two years. Thousands have been through the exhibition at places like Whanganui and Hastings. Some 42,000 people went to see it at Wellington, and the Prime Minister opened the exhibition at Gisborne.
Te Puni Kōkiri has been right there along with Māori Television to support the exhibition tour.
Te Huringa/Turning Points charts a visual history of this country's journey from early contact, settlement and colonisation through to contemporary perspectives by 20th and 21st century artists, both Pākehā and Māori. There are works by Augustus Earle, Nicholas Chevalier, Charles Goldie, Colin McCahon, Gordon Walters, Sandy Adsett, Robyn Kahukiwa, Emare Karaka, Shane Cotton, Edith Collier, and former Whakamarama artist Darcy Nicholas.
That's two views, two thoughts. Even the shared curators brought two different thoughts to the exhibition: Peter Shaw as a Pākehā, and Dr Jo Diamond (Ngāpuhi) as a Māori.
The majority of the works came from the Fletcher Trust, first gathered together by Sir James Fletcher. Sir James passed away last year, but his legacy lives on. His son and the present chair of the Fletcher Trust, Angus Fletcher, hopes people will see the turning points in Te Huringa/Turning Points.
"What they have done is to encourage some of us to set aside our previous ways of seeing, to take on board different perspectives in the context of viewing New Zealand historic and modern art," says Angus Fletcher.
"It would be an admirable thing if we could come away from this exhibition with the determination to adopt a similar willingness to consider different perspectives when seeking to address the social issues of today," he says.
The exhibition is currently in Nelson then will travel to Christchurch by the end of the year. There's still another two years for Te Huringa/Turning Points to continue its journey around the country.