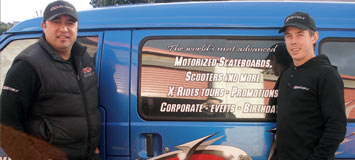 James Hammond of Ngāti Toa is riding a wave of business success after purchasing his first scooter a couple of years ago.
A builder by trade, James Hammond is now the owner operator of a motorised scooter, skateboards and other rides business – X-Rides Ltd based in Plimmerton, near Porirua.
The business is multifaceted and includes the hiring, leasing and retailing of his motorised scooters, skateboards and other rides.
X-Rides Ltd caters for corporate and team building events, birthday parties, school galas, cultural, eco and adventure tours and more.
About 18 months ago James Hammond decided to approach Te Puni Kōkiri's Business Facilitation Service to further develop his business.
"I couldn't have gotten to the point I am at without Te Puni Kōkiri's support. The mentor advice I had received and continue to get is fantastic.
"So really thank you Te Puni Kōkiri," he says.
James Hammond is looking at franchising his business to other parts of the country and is currently exploring a community-based business model to give back to the local community.
He says his long-term vision is to set up a trust where all X-Rides franchised businesses pay a fee to support skilled and talented young Māori to further their sporting interests in X-game sports like motor-cross, skateboarding and others.
"There's no doubt that our rangatahi have got the talent to excel in these sports. The issue often comes down to money so what better way to support them than through business," says James Hammond.
X-Rides has been featured on One News, Pacific Beat Street, What Now, CNN, a King Kapisi music video and Wheel of Fortune hosted by Jason Gunn.
For more information or to contact James Hammond visit www.xrides.co.nz