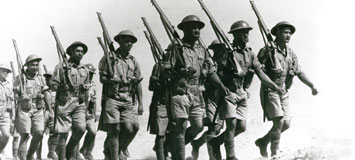 Māori in New Zealand's Defence Forces have a long and proud tradition.
Indeed, the fighting qualities of Māori had been identified as far back as the 1850s, when Governor George Grey suggested a force of 4,000 Māori recruits be established to seize Tahiti in the event of war breaking out between the British Empire and France.
Though this plan never came to fruition, a Māori contingent was raised some 60 years later and would travel to fight in the trenches of Europe during the First World War.
But it would be Māori involvement in the Second World War that would boost Māori mana, especially among New Zealand's armed forces.
When the Second World War ended in 1945, the 28th (Māori) Battalion had become one of the most celebrated and decorated New Zealand units. The pinnacle of its achievement was the Victoria Cross won by Te Moananui-a-Kiwa Ngarimu in 1943.
Ultimately, nearly 16,000 Māori enlisted for service during World War II. A number served in the Royal New Zealand Air Force or Royal Air Force in both Europe and the Far East, and smaller numbers of Māori served in the navy or the merchant marine.
That tradition lives on today. Māori remain heavily committed to the New Zealand Defence Force – Te Ope Kaatua O Aotearoa.
New Zealand's Defence Forces are actively defending New Zealand's interests within our territorial boundaries and in trouble spots around the globe. Of the Defence Force's current 11,500 regular force personnel and civilian support staff, nearly 1,850, or 16 percent, are Māori.
The New Zealand Army – Ngāti Tūmatauenga – is believed to be New Zealand's largest single employer of Māori, with 1,070, or more than 20 percent of all personnel.
The Royal New Zealand Navy – Te Tauā Moana O Aotearoa – employs 440 Māori and the Royal New Zealand Air Force – Te Tauā-ā-Rangi – has 160 Māori serving New Zealand.