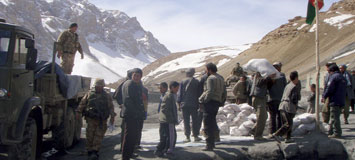 Mention Afghanistan and people tend to think of the Taliban, an inhospitable climate and equally rugged terrain.
But high among the isolated peaks and valleys of Afghanistan's Bamyan province New Zealand's 136-strong Provincial Reconstruction Team (PRT) is carving out a reputation as a powerful force for good in this part of the world.
Among them is 22-year-old Trooper Tyran Poi (Ngāti Porou, Te Whānau-ā-Takimoana), fulfilling a dream he has had since primary school of joining the army.
Tyran Poi is a member of 1 Battalion Royal New Zealand Infantry Regiment based at Linton Military Camp. Now deployed to Afghanistan on his first operational mission, Tyran Poi is the Lead Driver and Rifleman for Kiwi Team Three, who carry out patrols and humanitarian operations in the Bamyan area.
The New Zealand PRT has three main tasks: maintaining security in the province by conducting frequent presence patrols throughout the province; supporting the provincial and local government by providing advice and assistance to the Provincial Governor, the Afghan National Police and district sub-governors; and preparing and providing project management for NZAID projects within the region.
The New Zealanders have a great reputation. Their distinctly "Kiwi" way of doing things serves the New Zealand Defence Force and locals well – traits like resourcefulness, enterprise, common sense, and daring. Tyran Poi's job is varied and can include delivering food or coal (for fuel) to locals who might not have seen vehicles in months, supporting engineers who might be trying to locate a good spot for a well, or medical officers who run health clinics.
Tyran Poi is also part of the Kairanga culture group and the 1 Battalion Māori Culture Group. His family are still all located in the small town of Tikitiki, on the East Cape, and he looks forward to visiting home.
"Every time I walk into the RSA back home the ex-servicemen always have a chat with me, and talk about their days in the army and compare their experiences with mine." Tyran Poi has found that the firm friendships he has forged are a highlight of army life, and spending time with mates while getting into some rugby, hunting and diving for kaimoana is what he enjoys most.
To find out about any of the 30-odd careers in the New Zealand Army call 0800 NZ ARMY (0800 69 2769), or visit their website www.army.mil.nz.