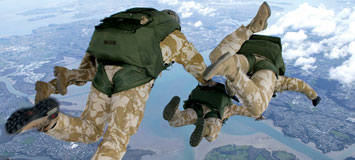 It's all about whānau for Corporal John Tepania (Ngāti Kahu, Ngāpuhi), who joined the Royal New Zealand Air Force (RNZAF) in 2001 at the age of 20.
John Tepania's father, uncle, younger brother and cousin all work for the RNZAF and his aunt works for the New Zealand Defence Force. "I love how people come across our surname, 'Tepania', and try and piece together how we are all related," he says.
Today John Tepania's life is a far cry from the streets of Manurewa, where he grew up: "Working in a factory in South Auckland never seemed that exciting to me.
Joining the Air Force is probably one of the best choices I have made in life!" John Tepania is a Safety and Surface Technician at Number 40 Squadron – with the C-130 Hercules and Boeing 757s – and ensures the aircraft and equipment such as parachutes and life rafts are kept in peak operational condition.
He says life in the Air Force can be challenging, but also extremely rewarding. "The things I have seen and done are amazing, travelling to countries I never thought I would ever go to. I can honestly say that I wouldn't have done half of what I have done if I was a civilian.
"More importantly, I met my fiancée in the Air Force, which would have to be the biggest highlight of my career."
John Tepania is a keen member of the Base Whenuapai, RNZAF and New Zealand Defence Force Māori cultural groups and, keeping with the family theme, his mum, sister, baby brother and another cousin have all been members of the culture group.
Corporal Tepania's message to other Māori who are thinking about a career in the RNZAF or NZDF is to be positive. "There's the perception out there that the Air Force is hard to get into. It's not a walk in the park but with a little bit of hard work and determination it is possible," he says.
To find out about any of the 30 plus careers in the RNZAF call 0800 AIRFORCE.